politics
Roger Stone's Testimony in House Russia Probe Delayed After Radio Tirade
By
Former Trump campaign adviser Stone was to testify July 24

Stone had called Democrat on panel a 'yellow-bellied coward'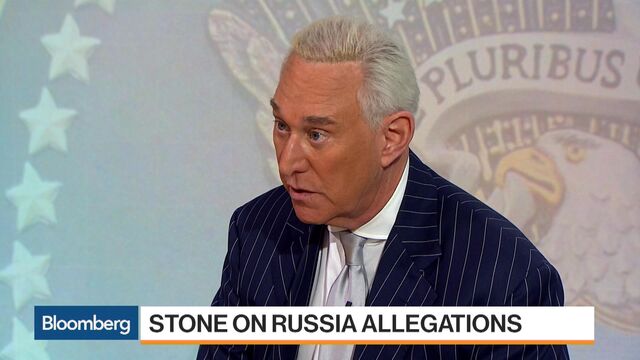 The House Intelligence Committee has postponed the scheduled July 24 closed-door testimony of former Donald Trump campaign adviser Roger Stone in its probe of Russian meddling in the presidential election, Stone's lawyer said Friday.
The lawyer, Grant Smith, said his client was notified by the committee late Thursday that his testimony would be delayed until after Congress's August recess because the panel wasn't ready.
Stone hurled insults at two Democratic members of the intelligence panel -- threatening to sue one and calling another a "yellow-bellied coward" -- during an appearance aired Thursday on Buffalo, New York-area radio station WBEN. Also on the program was former Trump campaign communications adviser Michael Caputo, who is scheduled to testify before the House panel Friday afternoon.
The Republican leading the House committee's probe, Mike Conaway of Texas, wouldn't tell reporters Friday whether the committee has delayed Stone's testimony. The panel's investigation has been marred by partisan infighting, and members have struggled to agree even on the mission and scope.
'Taking It on the Chin'
Stone is upset at the postponement, Smith said in an interview, because he wants to appear before the committee and believes he has "been taking it on the chin" in terms of innuendo and false claims. 
Caputo and Stone have denied involvement or knowledge of any collusion between the Trump campaign and Russians.
During Thursday's broadcast, Stone predicted that "most committee Democrats wouldn't attend his and Caputo's closed-door appearances before the panel. He contended that one Democrat on the committee, Jackie Speier of California, had said he was on the Kremlin payroll.
"OK, congresswoman. You have two choices -- apologize or I'll see you in U.S. District Court in California," said Stone. "You see, members of Congress can be sued when they say things outside the floor. She said that on television. And therefore I will be suing her."
Caputo egged Stone on: "Oh, will you please do that. Please do that. She needs a lawsuit."
Stone went on to say he thinks another Democratic member of the House committee won't show up for Stone's testimony.
'Yellow-Bellied Coward'
"I mean, have you seen this guy, Eric Swalwell? The lightweight, mannequin, pretty-boy from California?" Stone said. "I think he's a yellow-bellied coward. And I don't think he will show. But if he does show, he will regret it for the rest of his life."
Speier, in an interview, declined to say whether she was among those seeking a delay in Stone's testimony, though she said, "I, for one, want to make sure we have all the information in front of us to ask the right questions."
As for Stone's claims he wants an apology from her or he will sue, she said, "He doesn't understand, you know, the speech and debate clause, either." The Constitution protects members of Congress from being sued over their actions in conducting legislative business.
A Swalwell aide had no comment on Stone's remarks.
Caputo's lawyer, Dennis Vacco, said in an interview that his client had agreed to appear Friday after the committee requested documents and testimony in May.
"He wants to tell about his involvement in the campaign and the lack of involvement he had in any contact with any Russian government official during that time period," said Vacco.
Before it's here, it's on the Bloomberg Terminal.
LEARN MORE