Earnings Catching Up to Bank Stocks Still High on Trump Promises
By
Financials holding most of their post-election gains this year

Yield curve flattening as bank earnings calls are tempered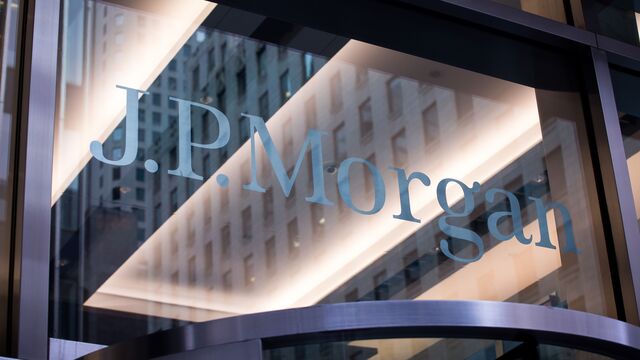 After Election Day, the bull case on U.S. bank stocks was simple. Donald Trump was taking office, and he'd usher in tax cuts and government spending that would spur a reflationary surge to the benefit of lenders.
Eight months later, very little of that has happened. Yet despite getting dinged on earnings this morning, financial shares are nearly as high as ever.
Up 24 percent since Nov. 8, the group retains the biggest gain in the S&P 500. But over that stretch the earnings boom expected for financials has been pushed back, the spread between 2- and 10-year Treasury bonds has narrowed, and regulatory changes have taken a back seat to health-care deliberations and questions over White House ties to Russia.
That the group has kept roughly all its post-election gains shows just how indomitable bank bulls have been even as the Trump administration goes from one drama to the next. Something tangible better happen soon or those bulls will start turning to bears, said Charles Peabody, a managing director covering bank stocks at Compass Point Research & Trading in New York.

"Right now you're making money purely on multiple expansion related to policy and I suspect it may be a bridge too far," Peabody said by phone. "We're not going to get these policies in the manner that the market is expecting. The market doesn't care about earnings."
It's not to say there aren't reasons to like the sector. While analysts have lowered estimates for second- and third-quarter profits, earnings in the last reporting season grew by double-digits from a year ago. And last month the industry's capital stress tests went off largely without a hitch.
This quarter has had a mixed start, with Citigroup Inc. beating estimates Friday while some of JPMorgan Chase & Co.'s numbers missed. The industry is down 1.1 percent on the day.
In a July 12 report, Morgan Stanley analysts maintained that policy changes will be a major factor for the industry. "It's only the beginning" for big banks following the test results, and changes suggested by the Treasury Department should boost revenue while cutting expenses, they wrote.
The catch is none of those seem to be the reason for the group's climbing share prices.
Financial stocks advanced 17 percent between the election and year-end, before stalling during first-quarter earnings and then resuming a rally that reached a bull market peak on March 1 after a speech by President Trump to Congress that was short on details and long on promises.
The group then slid as much as 9 percent as bond yields fell. The index regained virtually all its losses over the next three months as the spread between short- and long-term Treasury yields continued shrinking. Hawkish language from Fed governors this month has helped widen that spread, now roughly the same level as Nov. 8.
Though financials boast some of the strongest earnings growth in the market, analysts have dialed back the timing for future gains. 
At the start of the year, analysts expected 11 percent profit growth in 2017, including 10.3 percent growth in the second quarter and 6 percent in the third. The yearly estimate hasn't changed, but the biggest gains have been pushed to the fourth quarter, with second and third-quarter gains now at 6.8 and 3.9 percent, respectively.
— With assistance by Felice Maranz
Before it's here, it's on the Bloomberg Terminal.
LEARN MORE