politics
Illinois Budget That Saved It From Brink May Add to Pension Debt
By
Budget allows for stepped up contributions to be phased in

Retirement shortfall has left state at risk of cut to junk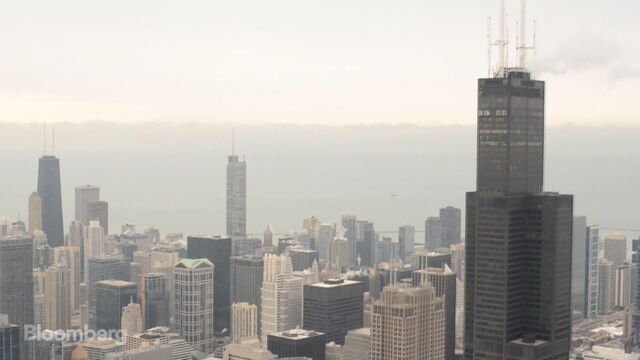 Illinois's biggest financial challenge, the $130 billion debt to its workers' pension funds, may only get bigger thanks to the budget that pulled the government back from the brink.
That spending plan, pushed through by lawmakers eager to keep Illinois's bond rating from being cut to junk, allows the state to sink deeper into the hole by giving it five years to phase in hundreds of millions of dollars in increased contributions to four of its five retirement plans. Those extra payments stem from the funds' decisions to roll back forecasts for what they expect to make on their investments, which means Illinois will need to set aside more money to ensure it can cover pension checks due in the decades ahead.
"The phase-in of the actuarial assumption is another exercise in kicking the can down the road, but we're not sure how far the can travels," said Dave Urbanek, spokesman for the Illinois Teachers' Retirement System, the state's largest pension, which has $73 billion of unfunded liabilities. "You pay less now, pay more later."
Illinois's swelling pension-fund debt has it at risk of becoming the only U.S. state to be cut to junk, despite the end to a two-year budget impasse that left it with a record backlog of unpaid bills, cut aid to universities and undermined its standing on Wall Street. While Illinois bonds have rallied since the legislature broke the stalemate this month, Moody's Investors Service said it may downgrade Illinois because of its severely underfunded retirement system.

The retirement fund shortfall built up for years as Illinois failed to make adequate annual contributions, freeing up cash to spend elsewhere. The latest budget, which increases taxes, will allow that to continue: Phasing in the increased pension payments over five years saves an estimated $892 million, according to estimates provided to legislators. That money will need to be paid back later to keep the debt from growing, unless the funds reap windfalls from outsized investment gains.
"It certainly goes in the wrong direction," said Don Boyd, a fiscal studies director at the Nelson A. Rockefeller Institute of Government in Albany, New York, acknowledging the difficult financial challenge facing lawmakers. "It's not, of course, any kind of a long-term, substantive real savings."
After the stock market stumbled in 2015, Illinois's four pension systems for teachers, state workers, judges and lawmakers all lowered their assumed investment rates of return, according to a March report from the Commission on Government Forecasting and Accountability. That, along with other accounting changes, added $9.67 billion to their unfunded liabilities, since they could no longer count on making as much on stocks, bonds and other holdings. The teachers and state employees systems dropped their rates of return to 7 percent, while the plans for judges and general assembly members cut their rates to 6.75 percent.
All four had negative investment returns in the 2016 budget year, according to the commission. The state university retirement system was the only one with positive returns, eking out a gain of just 0.2 percent, the report showed.
Illinois's budget has other pension changes that may chip away at the state's retirement bills. One would require universities and school districts to pay pension costs for new employees who opt into so-called hybrid plans, which are based partly on employees' contributions. While the governor's office has estimated that could save the state $500 million a year, it's unclear when it would start because that was left up to the teachers' and universities' retirement systems.
Another change is that districts and colleges would pay for pensions of those who make more than the governor.
America's Pension Bomb: Illinois Is Just the Start
While S&P Global Ratings raised its outlook on Illinois to stable because of the budget resolution, the risks of a rating cut haven't entirely receded. On July 5, Moody's Investor Service put Illinois, already at the lowest level of investment grade, on review for downgrade, citing its "severely underfunded pensions." The review typically take 30 to 90 days.
"When you're not following best practices and your pension funds are not 100% funded, to seize on smoothing as a means of immediate savings to the state is questionable and will likely be more expensive," said Laurence Msall, president of the Civic Federation, a Chicago-based nonprofit that tracks municipal finance. "But because the state hasn't provided any actuarial analysis, it's difficult to estimate just how expensive it will be."
Before it's here, it's on the Bloomberg Terminal.
LEARN MORE