An Obscure Technical Indicator Was the Only Way to Beat European Stocks This Year
By
Only one technical strategy can top buy-and-hold in Stoxx 600

For the S&P 500, nothing beats going long in bull market
Buy an index, sit back and watch the returns pile up.
That's been the key to making money in European stocks so far this year, with passive investing delivering a 6.1 percent return to outpace two-dozen other strategies based on technical indicators. There's just one exception, and it's probably one you've never heard of.
KBand, a version of the better-known Bollinger band indicator that uses volatility-based channels to determine buy and sell actions, essentially matched buy-and-hold with a 6.2 percent return in the same period. The technique, based on Keltner channels, easily outperformed the likes of Ichimoku and William's %R indicators, among 22 strategies backtested using Bloomberg functions.
The virtually uninterrupted runup in European equities this year has made life difficult for all measure of stock pickers, as passive strategies that are long stocks consistently outperform.
"Keltner channels are trend-following indicators, so I would imagine that they work well when there is a clear trend intact," said Andy Dodd, a technical analyst at Louis Capital Markets in London.

Using KBands, a trader will go long (buy) when the close crosses below the Keltner lower band and go short when the close is above the upper band as illustrated by the red and green flags in the above chart. It's performance has been even better over the past 12 months, scoring a total profit of almost 19 percent, with about 2 percent from shorting and the remainder from going long. By contrast, the buy-and-hold strategy gave almost 15 percent returns.
While KBands managed to eke out a win in Europe in 2017, the persistent bull market in the U.S. that's seen the S&P 500 Index more than triple has been kindest of all to buy-and-hold investors.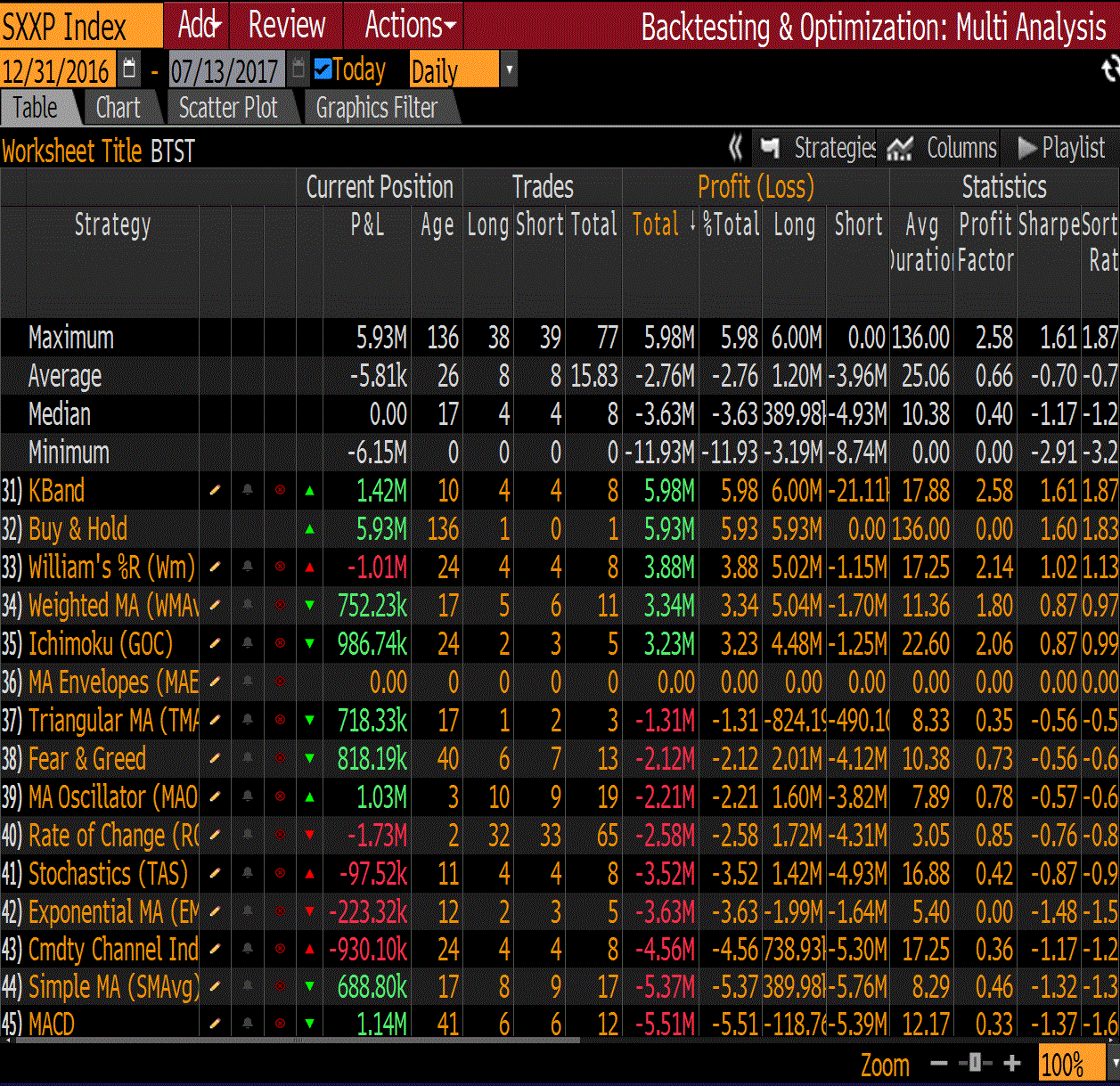 Before it's here, it's on the Bloomberg Terminal.
LEARN MORE