business
Salgado Fights for Family Honor as Espirito Santo Case Drags On
By
Portugal's central bank fined ex-CEO, who denies wrongdoing

Lone Star was picked to buy parts of the Espirito Santo bank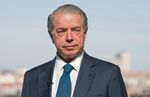 Three years after the bailout of the near-century-old Portuguese lender Banco Espirito Santo SA, the man who led it for over two decades is writing a memoir and rejecting blame for the rescue of his family-controlled bank.
"I'm fighting for the honor of being who I was and for the honor of my family," Ricardo Salgado, who was chief executive officer until July 13, 2014, said in emailed responses to questions. His family owned 20 percent of the bank when it was bailed out. "To apologize would have been the easiest formula to free myself from responsibility publicly. I think I have the responsibility to fight for truth to be restored."
Thousands of small investors who say they lost their savings after being cheated into investing in complicated Espirito Santo group debt instruments may disagree. The government is promoting a solution to help some of them to get part of their money back. Others are fighting in court.
"They should all apologize; clients were deceived." said Ricardo Angelo, president of one of the associations that represents retail customers who bought the group's commercial paper. "The primary responsibility is Ricardo Salgado's and secondly the resolution was badly managed and we suffered with that. It should never have happened."
For Portugal, the Espirito Santo family's fall from grace ended the dominant role played by one the country's most secretive banking dynasties. The group was created by Jose Maria Espirito Santo, who opened a "Caza de Cambio" on a small Lisbon street in 1869 to buy and sell credit securities and lottery tickets.
The group was transformed by his heirs into a sprawling global empire with businesses including banking, property, agriculture, tourism and health. At various points, companies related to Espirito Santo held stakes in Portugal's biggest phone and cable companies, the country's largest utility and owned one of the leading insurers, touching the lives of ordinary Portuguese people.
'Owner of Everything'
Salgado, once known in Portugal as the "owner of everything," rejects the nickname and says he's now being turned into the "person responsible for everything." The Espirito Santo family controlled Banco Espirito Santo for most of the lender's 94-year history, losing their hold when it was seized by a revolutionary government in 1975 and regaining it 16 years later. Salgado is the great-grandson of the bank's founder.
"For all the mistakes we may have committed in the management of Banco Espirito Santo, I'm sure that the end didn't have to be the way it was," said Salgado, 73.
He was banned in 2016 from working in the banking sector for 10 years and fined 4 million euros ($4.6 million) by the Bank of Portugal for mismanagement, violating rules on conflicts of interest and providing false information. He denies any wrongdoing and is appealing the accusations. Salgado also has a status similar to that of a suspect in a money-laundering investigation. He declined to comment on specific details of the legal cases.
Sale Attempt
Banco Espirito Santo collapsed under the weight of bad debts to companies held by the family-controlled Espirito Santo Group and had to be rescued by the Portuguese central bank's Resolution Fund in a 4.9 billion-euro bailout on Aug. 3, 2014. The central bank moved the lender's deposits and most of its assets to Novo Banco SA and is now trying to sell them to Lone Star Funds after an initial sale attempt failed in 2015.
The U.S. investment firm will get a majority stake in Novo Banco by injecting 1 billion euros in the lender, a fraction of the bailout, while the Resolution Fund will be saddled with a 25 percent stake and may have to carry out further capital infusions depending on the performance of a set of assets. Novo Banco had 11 billion euros of non-performing loans at the end of March.
Salgado said the best outcome for Novo Banco would have been an acquisition by state-owned Caixa Geral de Depositos SA or Banco Comercial Portugues SA, with a prior recapitalization backed by the state. Espirito Santo was the only big publicly traded lender that didn't request state aid after the nation's bailout in 2011.
Both Caixa Geral and Banco Comercial, Portugal's biggest banks by assets, this year had to boost their own capital as they try to address souring loans.
Family Control
The family's control over Banco Espirito Santo started to come apart as the Portuguese central bank took a closer look at inter-group lending. In the course of a week in the summer of 2014, three companies related to the family filed for creditor protection as they were unable to meet debt obligations.
Bank of Portugal Governor Carlos Costa said in August 2014 that Espirito Santo "developed a scheme of fraudulent financing within the group's companies."
Salgado maintains that everything was being done to protect clients, admitting only "errors of judgment," namely at the Angolan unit, which has also been seized. He said he's "obviously" sorry for the clients who lost their savings but blames the Bank of Portugal's resolution decision. "Clients were harmed by the resolution measure, it wasn't me who opted for the resolution," he said.
Writing Memoirs
The family's Espirito Santo Group was a web of holding companies with businesses including a soybean farm in Paraguay, a diamond mine in Angola and real estate in Brazil. A 2014 parliament inquiry concluded that the group was founded with very low capital and depended, directly and indirectly, on financing from the bank.
Salgado continues to argue that the group was viable. "We failed there, but we were working to overcome the problem," he said, citing a planned capital increase at one of the group's holding companies.
Still, trouble at the top of the web of companies had been accumulating. An audit requested by the Bank of Portugal into the accounts of Espirito Santo International SA found debt had been "undervalued" and hidden liabilities had reached a total of 1.3 billion euros in 2012, according to the parliament inquiry's final report.
"Differences" in accounting could be traced back to 2008, Salgado said in parliament in 2014. In his emailed comments earlier this month, Salgado reaffirmed he didn't give any instructions to manipulate the numbers and wasn't aware of any irregularities, even though he was a board member of the Luxembourg-based holding company that bore his family's name.
When he's not preparing his defense, Salgado spends part of his days writing his memoirs and says he's reading a lot and spending time with his family. He says "envy" might be partly responsible for his group's demise. 
"Today I have no doubt that the story saying that I dominated everything was created with the goal of attacking me," he said.
Before it's here, it's on the Bloomberg Terminal.
LEARN MORE