Politics
Rex Tillerson Gets His First Test on the Road
The secretary of state rolls up his sleeves to deal with the Qatar crisis.
By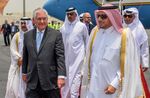 At the start of the Group of 20 summit in Hamburg, Secretary of State Rex Tillerson showed a rare flash of impatience during a meeting with Russian Foreign Minister Sergei Lavrov. As Lavrov started complaining about the loss of a reserved parking space outside the ambassador's residence in Washington, D.C., Tillerson cut him off. "We're going down here, Sergei," Tillerson said, making a swirling down-the-drain motion with his hand, according to two people who were in the meeting. His point: He wasn't there to talk about petty grievances.
Tillerson suggested that his boss, President Donald Trump, take an equally direct approach in his sitdown with Russian President Vladimir Putin a few hours later. Trump did so and began the meeting by raising the issue of Russia's election meddling, according to a senior Department of State official familiar with the meeting. Putin and Trump spent the next 45 minutes discussing the elections and cyber­security, the official says.
Tillerson's performance in Hamburg suggests he's finally starting to hit his stride as secretary of state after a rocky start in the job. The former chief executive of Exxon Mobil Corp. has spent the past few months cloistered away from State Department staff, fighting with the White House over hiring decisions, and weathering criticism that he'd been sidelined by Trump. None of that's gone away, but Tillerson's decision to embark on a series of hops through the Persian Gulf—his first attempt at shuttle diplomacy—is the strongest evidence yet that he's embracing his role as traveling problem-solver.
During a whirlwind eight-day trip that included stops in Kuwait, Qatar, and Saudi Arabia, Tillerson sought to help Kuwaiti mediators broker a deal to end a standoff between two key U.S. allies in the region, Saudi Arabia and Qatar, which a Saudi-led coalition accuses of financing terrorism. The crisis fits Tillerson's résumé perfectly. He knows the region, and he knows the players. Exxon's ties to Qatar go back to the early 1990s, when Mobil helped develop the country's gigantic North Field gas reserves. "Nice to be back in Doha, a very familiar place," Tillerson said when he landed in the Qatari capital and met the emir, Tamim bin Hamad Al Thani, on July 11. "This is a good place for him to cut his teeth," says Daniel Kurtzer, a U.S. ambassador to Egypt and Israel under George W. Bush who's now a professor at Princeton, "given that he's dealing with oil and gas producers—people who speak a language he speaks."
The Qatar crisis could give Tillerson his first big win as America's top diplomat. He could certainly use one. Despite his repeated warnings, North Korea has pressed ahead with development of nuclear weapons and ballistic missiles. Tillerson's efforts to get China to exert more pressure on the country have been fruitless. And then there's Russia, which continues to defy sanctions. "The stakes are huge for Tillerson," says Derek Chollet, a former Obama administration official who's a senior adviser at the German Marshall Fund of the U.S. "If he can't make a difference on this issue, it is hard to see him succeeding anywhere."
Tillerson achieved tangible progress within hours of arriving in Doha, when he announced the signing of a memorandum with Qatar that will coordinate ways to address the financing of terror. The true test will be whether this mollifies Saudi Arabia, inclining it to back down.
Tillerson's attempts to carve out a role as the voice of U.S. foreign policy have been most evident on this trip. In Hamburg, according to a State official, when Trump was questioned about the Qatar crisis, he repeatedly responded that Tillerson was handling it. Yet Tillerson still has to fight against the perception that he's on the outside looking in, particularly when Trump steps on his message with an impulsive tweet, as he did during the early days of the Qatar crisis, siding with the Saudis even as he offered Tillerson up as a mediator. "I don't know anyone in the Gulf—or anyone in the world—who believes you go to Tillerson or the State Department for decisions in the Trump administration," Chollet says. "No one really knows if the president has his back."
As much as the trip has shown that Tillerson has come into the job, it's also provided hints about how much he misses his past life. During a brief stop in Istanbul, he found time to accept an award from the World Petroleum Congress that had been bestowed on him before he became secretary of state. Rather than using it as a chance to talk about U.S. energy policy, Tillerson delivered a brief speech that struck a wistful tone. "I miss all of you," he said. "I missed you as colleagues. I miss you as partners. I miss you as competitors." —With Nafeesa Syeed
BOTTOM LINE -
After a rocky start as secretary of state, Tillerson is facing a key test with his efforts to broker a deal between Qatar and Saudi Arabia.
Before it's here, it's on the Bloomberg Terminal.
LEARN MORE