Poloz Credits Government for Growth, But Trudeau's Still Nervous
By
Canadians pessimistic even with G-7's fastest growing economy

'We could easily see a psychological chill,' Nanos says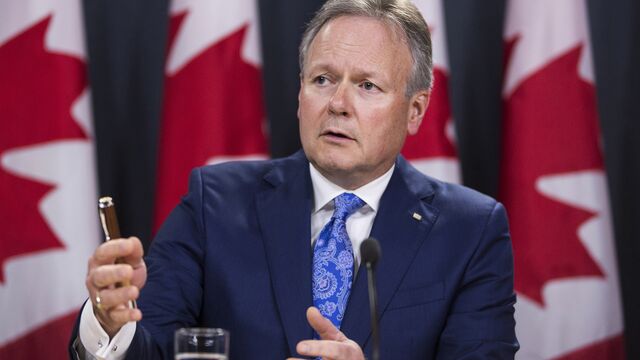 Stephen Poloz called it "good news for Canada" -- its economy is leading the Group of Seven in growth and the era of rock-bottom rates is ending. It won't be all good news for Justin Trudeau.
The Bank of Canada raised its benchmark interest rate Wednesday for the first time since 2010, saying growth is broad-based and predicting a return to full capacity by the end of the year. That growth, if sustained, should also trim the federal deficit.
And yet, in politics, it's more complicated. All five big Canadian banks followed Governor Poloz and raised their prime lending rates. Canadians will now see interest rates rise amid concerns of a housing correction and as they carry near-record levels of debt.
In other words, the view from the ground isn't as rosy. "The disconnect is real," pollster Nik Nanos, chairman of Nanos Research, said in an interview. "It doesn't feel like good times for Canadians."
This is, in part, an outcome of Trudeau's making. Poloz said "the fiscal plan" helped lead to a rate hike before touching on the political balancing act, however inadvertently. "I know not everybody will think a higher interest rate is good news, but it's a symptom of an improving economy."

Finance Minister Bill Morneau, avoiding commenting directly on the rate hike, said the strengthening economy gives people "resilience" to deal with changes. He then echoed a line used by other government officials that reveals anxiety growth is too narrowly felt: "There's more work to do." He's signaling the government has no plan to change course, or start clawing back deficits.
Consumer Fragility
"What's clear is that as our economy does better, more and more people have the tools and the resilience to face the future with confidence," Morneau said in a statement Wednesday. "We will move forward by continuing with an approach that's working, always with a strong middle class and long-term economic growth as our goals."
Nanos polling, conducted weekly for Bloomberg, has steadily shown Canadians aren't jubilant about an economy that's the envy of their G-7 peers. The Bloomberg Nanos Canadian Confidence Index is a tale of two recoveries. The sub-index measuring expectations for housing and the overall economy sits at 56.6, up from 54.4 at the end of last year, according surveys concluded July 7. However, the sub-index measuring job security and personal finances is largely unchanged at 59.9, compared to 59.3 at the end of last year.
The index is essentially showing that Canadians' pocketbooks haven't improved as quickly as their expectations for the economy overall. Almost 60 percent of respondents say that their personal finances haven't changed in the last year, the highest proportion making that claim in almost a year and above the 2008-2017 average of 54 percent.

Nanos attributes the nervousness to Canada's hot housing market. Policy makers have been taking steps to tighten mortgage eligibility and cool off the torrid pace of price growth in Toronto and Vancouver in particular.
On housing, "what I'll call a perceptual fragility among consumers has actually been created by the government and the bank" by low rates and Canadians are now nervous their homes will slump in value, Nanos said. "We could easily see a psychological chill among consumers as they wait to see."
Trudeau Sees 'Anxiety'
Trudeau and Morneau attended Group of 20 meeting in Hamburg this month -- a summit marked by anti-capitalist demonstrations that included clashes between police and protesters. Since taking power in 2015, Trudeau has overhauled benefit payments to boost them in particular for low-income families with children, as well as for the unemployed. His core economic message is around the middle class, which might explain his reluctance to trumpet Canada's robust job gains.
The prime minister's political rivals frequently criticize his spending plan, which includes deficits of nearly C$30 billion ($24 billion) annually, more than three times what Trudeau campaigned on. Stronger growth will likely stoke calls for him to begin reining it in, and rising rates will also weigh on that figure as the government's own borrowing costs jump.
A new child benefit program, which kicked in one year ago, was cited by Poloz as a driver of growth. Federal infrastructure spending is set to take up the baton and is "something we can look forward to" as fiscal policy, Poloz said. And yet the prime minister hints at his frustration that too few feel invited to the party.
"I understand skepticism and even frustration of people who see these meetings come and go without watching their benefits or their opportunities increase," Trudeau told reporters in Hamburg. "We know the anxiety citizens are feeling around the world is real. And it is up to us as leaders whose responsibility it is to serve their citizens, to serve the future of their countries, to allay those fears by offering opportunity, confidence and help to the middle class and those working hard to join it."
Canadian Medicine
The path forward for Trudeau gets more complicated. Poloz is now, in effect, taking money out of the system as the government's infrastructure plan prepares to put more in. The introduction of the Canada Child Benefit is a one-time, big-ticket program. Canada is also rebounding from a major forest fire that sapped oil production last year. All that may be juicing growth at an unsustainable pace, and risks remain from U.S. policy changes -- though Poloz said Wednesday people seem to be setting them aside.
Markets nonetheless expect additional rate hikes. David Rosenberg of Gluskin Sheff & Associates Inc. said in a research note Wednesday that "more tightening, through rates and the currency, are likely coming." That will boost Canadians' debt service costs and could fuel economic anxiety with an election due in late 2019. Trudeau and Morneau, as such, will steer clear of taking credit for any rate hikes, Nanos said.
"This is kind of like getting medicine," Nanos said after Poloz's press conference. "Interest rates is the medicine he's dispensing to Canadians and it takes a while for that to work through, in terms of Canadians believing that's good for them."
— With assistance by Erik Hertzberg
Before it's here, it's on the Bloomberg Terminal.
LEARN MORE