May Admits to Election-Night Tears and Couldn't Watch Exit Poll
By and
Prime Minister was 'devastated' by result: BBC radio interview

Promises to 'carry on' as party faces repeal bill hurdle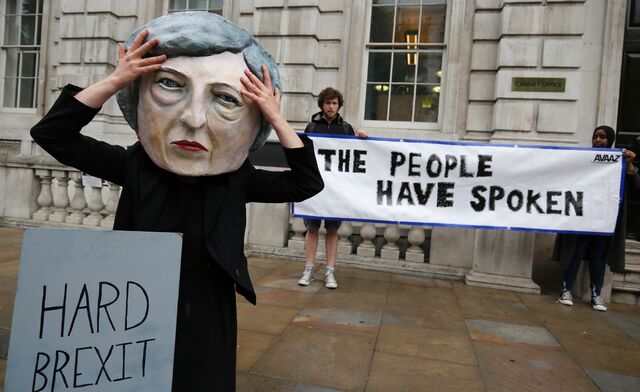 U.K. Prime Minister Theresa May said she shed a tear when she found out her government had lost its majority in the June election and that the result came as a complete shock.
"I felt devastated really," she told BBC Radio 5 Live's Emma Barnett. "I knew the campaign wasn't going perfectly but the messages I was getting were that we were going to get a better response than we did."
Read an account of how May's election bid turned into a nightmare
May faces a darker political future than the one she bet on when calling a snap election, or even a year ago, when she came to power on the heels of the Brexit referendum. Far from the landslide she'd hoped for, the Conservatives lost their parliamentary majority, sabotaging her government's ability to impose its original Brexit vision.
Yet in spite of all this, May appears to be determined to endure as premier. Reflecting back on the night of June 8, she said she couldn't bring herself to watch the exit poll but instead asked her husband Philip to tell her the result.
May said she had no idea it wasn't going her way.
"The message I was getting was still right through to the end that this was going to be a different result to the one we got," she said.
After wiping away her tears, May set about quickly to form a minority government. She entered a alliance with Northern Ireland's Democratic Unionists to prop her up in the House of Commons. Asked if she regrets her decision to hold another election, two years after the last one, May insisted that "it was the right thing to do at the time."
Did she ever consider resigning on the back of her disastrous performance? May responded that she was "driven by a sense of public duty" and was "going to carry on."
Before it's here, it's on the Bloomberg Terminal.
LEARN MORE