politics
Macron Hosts Merkel to Explore Grand Bargain for EU Reform
By
France wants help on defense, Germany wants France to reform

Annual joint cabinet meeting takes place in Paris Thursday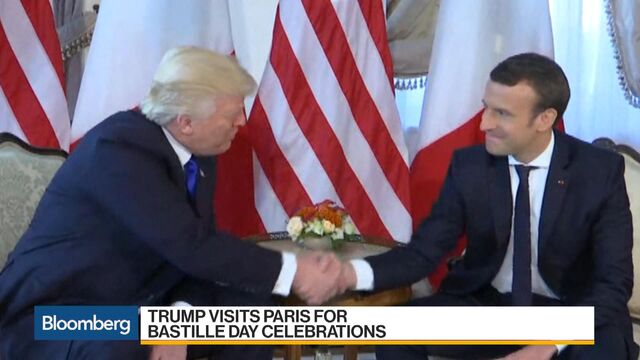 Germany wants France to make its economy more competitive and respect European budget rules. France wants Germany to help out on defense.
While Chancellor Angela Merkel and President Emmanuel Macron will get a chance to exchange wish lists at a joint cabinet meeting Thursday in Paris, the ultimate aim for both leaders won't be on the official agenda. That's tighter governance of the European Union on a range of issues from euro debt management to security.

But before that can be discussed publicly, the two leaders need to build up trust: Germany needs to feel that Macron is moving ahead on long overdue economic reforms. And French leaders want Germany and other rich countries from the north to support French military action that benefits the whole EU.
"There are large expectations of Merkel and Macron pushing together for a great European integration," said Martin Quencez, senior program officer at the German Marshall Fund of the United States in Paris. "Macron wants to show the Germans that France can reform. And the Germans want to see it"
Merkel has embraced Macron as a key ally since his May election victory, helping to give the EU a sense of unity and purpose as the U.K. negotiates its exit. Among their key goals in the long term is a deeper integration of the single currency area.
Three-Way Meeting
The German, French and Italian finance ministers met Monday night in Brussels to discuss euro-zone governance, and afterward Germany's Wolfgang Schaeuble said his government sees common ground with France. "We are thinking in the same direction," he said.
"Germany accepts its responsibility, and I think the conditions to do this are the best they've been in a long time," Merkel told a business group in Munich on Tuesday, citing Germany's record-low unemployment, budget surplus and steady growth. "A lot depends on German-French relations."
Thursday's joint cabinet meeting -- an annual event -- comes with Macron's government negotiating changes to France's labor code, and struggling to come up with enough spending cuts to meet European deficit targets while it enacts tax cuts the president promised during his election campaign.
Labor-market liberalization and other reforms in France are "crucial for the credibility of Mr. Macron abroad -- and particularly with Germany -- to be able to push through his ambitious agenda of deeper European integration," said Olivier Vigna, an economist at HSBC France. 
German Troops in Mali
Thursday's meeting will begin with Merkel and Macron visiting French students studying German while individual ministers meet for one-on-one sessions. The two governments will then hold a plenary session over lunch, with a joint press conference between Macron and Merkel scheduled for 2 p.m. in Paris. When the Germans return to Berlin, Macron's busy day continues as he holds talks with U.S. President Donald Trump.
There will also be a "defense and security" cabinet meeting before lunch, including Macron and Merkel, and their defense, foreign and interior ministers.
French troops intervened in Mali in 2013 to prevent the country falling to Islamic militants, and France maintains about 3,500 special forces across the Sahel area, south of the Sahara Desert. Germany has about 650 troops in the country as part of a United Nations mission, and German transport planes help supply French forces. France would like a more structured European defense cooperation, but the German public has criticized Merkel for exposing the country's military despite its limited engagement in Mali.
Germany and France have both pledged to produce a roadmap for EU defense cooperation, but they have different concepts of what that means, says Quencez. The Germans would like to have as many countries as possible involved in joint planning and procurement initiatives, while the French would like a higher bar for entry to keep it more efficient.
"Since the beginning of the European Union history back in the 1950s it's been Germany and France that have been the engine of European integration," Luxembourg Finance Minister Pierre Gramegna told Bloomberg Television's Tom Keene and Guy Johnson on Thursday. "What we are all expecting from this German-French cooperation is they will drive both the political agenda and the economic one."
— With assistance by Tony Czuczka
(
Updates with comments from Luxembourg in final paragraph.
)
Before it's here, it's on the Bloomberg Terminal.
LEARN MORE