Vintage Cars
How to Outsmart the Slump in the Classic Car Market
Recent auctions of vintage automobiles have shown a softening of prices in the blue chip category. But there are still some chances to make a buck on a beautiful car.
By and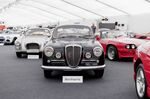 Bernie Ecclestone, the flamboyant former owner of the Formula One racing franchise, has simple advice for those who want to make money in classic cars: "Buy cheap."
Historically, that hasn't been easy; big-ticket vintage cars such as Ferraris and Bentleys have surged in value over the past five years, in part because of an ultraloose monetary policy that's encouraged speculators to look into niche asset classes. But this year the market shows signs of slipping. Lackluster demand was evident in June at an auction held at the Goodwood Festival of Speed, the annual celebration of chrome and Castrol held at a sprawling British estate.

A highlight of the weekend—which features races, gourmet food stands, and presentations by brands such as Aston Martin and Lamborghini—is a classic-car auction by Bonhams. This year the house faced a tough audience. Even the day's top sale didn't crack a million pounds, a barrier Bonhams used to cross easily. The crowd favorite was a 1962 Mercedes-Benz 300 SL Roadster, which went for £897,500 ($1.2 million). Bonhams sold another of the same model year in January 2016 for $1.5 million.
Many of the sleek collectibles at the fancy fest didn't sell at all: not a 1989 Ferrari Testarossa Coupe, which ushered in the reign of gill slits, not a 1959 Bentley S-Type Continental Sports Saloon (the fastest sedan of its time), not even a rare 1993 Porsche 911 Turbo with a red-black interior.
Some blame nervousness over interest hikes in the U.S. and U.K., which might discourage loan-happy speculators and push more timid buyers back into traditional assets such as bonds. Others say that after years of cars changing hands at ever-rising prices, there are few star autos left to go around—like the 1966 Ferrari 275 GTB that sold for £2 million at Goodwood last year.
The Hagerty Collector Car Indices measuring North American sale prices have more than doubled in value over the past decade, with Ferraris alone surging more than fivefold in that time. But the aggregate indexes peaked last year and have since stalled—leading some to fear that this is the beginning of a slump. Only about 70 percent of the cars on offer sold at the Goodwood auction this year, vs. about 90 percent in a good year.

Carl Hartley is a 29-year-old classic-car reseller (he dropped out of school at 12 to join the family business) who bought the £2 million Ferrari last year. This time around, he abstained—sellers have become too ambitious, he says, plus the cars weren't good enough. "There has been a glut of less-than-perfect cars, after high prices prompted lots of people to bring their vehicles to market to capitalize," says John Mayhead, a U.K.-based analyst with Hagerty Group LLC.
"To get a really good price on something now, you've got to have incredible provenance," says Jane Weitzmann, a collector who owns about 40 cars, some of which she rents for films. "Peter Sellers owning it is not enough; you need to have something much more special." Weitzmann knows a bit about making money off famous classics: A Lamborghini Miura she bought in 2000 for £85,000, which previously belonged to the supermodel Twiggy and Ecclestone, too, is now worth as much as £1 million.

Dealers have been hurting, admits Richard Biddulph, a dealer and managing director of Vintage & Prestige Classic Cars Ltd. Only top-of-the-line classic cars have stayed immune to the downturn: For example, 1960s DB5 convertibles from Aston Martin, long James Bond's favorite brand, still regularly sell for more than £1 million.
And there are still some pockets of sterling opportunity. Ferraris and other high-end sports cars from the '80s and early '90s are gaining momentum as the darlings of newly rich millennials. These so-called modern classics have yet to reach peak prices, which means diligent buyers can find relative deals on such models as a Ferrari 308 or Lamborghini Diablo. According to Hagerty Group, Ferrari 308s and 328s, Lamborghini Countachs and Diablos, and Ford GTs are the most popular cars with members of this younger demographic, who grew up with posters of them on their walls. If that interest is borne out into sales, the cars will likely go up in value.
"The big question is where does that money come from and does it have better things to do," says Simon Empson, managing director of U.K.-based car broker Broadspeed Ltd. Yet there's hope among sellers that billionaires like Ecclestone can keep the market thriving. At this year's festival, he splashed out £320,700 on a black 2010 Porsche 911 GT2 RS Coupe. When asked why, he simply responded, "I was in the mood to buy something."
Before it's here, it's on the Bloomberg Terminal.
LEARN MORE