politics
Fox Backs Short Brexit Transition as Cabinet Divisions Deepen
By , , and
Trade secretary 'very happy' with period of 'a few months'

Hammond wants two to three years to aid economic stability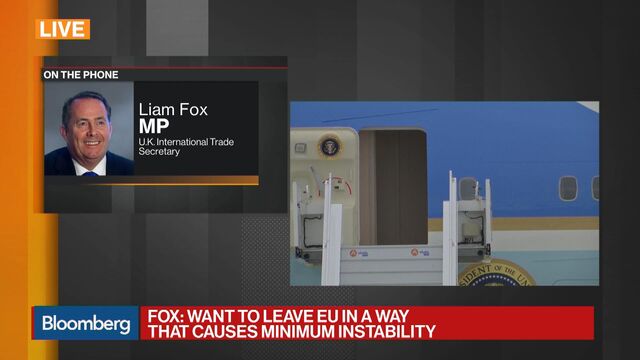 Trade Secretary Liam Fox, a leading advocate for U.K. departure from the European Union, said he would be "very happy" with a transition period of "a few months" if it maintains stability as Britain quits the bloc.
The comments reinforce the split in Prime Minister Theresa May's government over the issue. The position of Fox, who warned in December that such a deal would risk "diminishing" the will of British voters, puts him in direct conflict with Chancellor of the Exchequer Philip Hammond, who wants a transition of as long as four years.
"We're under time pressure to get a negotiation done, but if we have to have some kind of bridging mechanism that allows us greater time to get it right then of course we'll look at that," Fox said in an interview with Bloomberg TV on Thursday. "If we have to wait a few months to get full implementation as the price for keeping stability, then I would be very happy to do that."
Britain has until March 2019 to negotiate its divorce from the EU and the government will publish proposed legislation on Thursday that is intended to smooth the process by copying EU rules and regulations into U.K. law. Fox warned that lawmakers who try to hamper the progress of the Repeal Bill will increase the chances of Britain leaving without a deal.
"Those who try to derail this bill are increasing the risk of what they would call hard Brexit," he said. "We are going to leave the European Union and if we are unable to put the laws in place to provide that stability we'll still leave. We simply will not have the legal framework that we want."
The U.K. wants "minimum instability and market continuity" as it leaves the EU and a "family squabble" with European leaders risks getting in the way of a deal and damaging prosperity across the continent, Fox said.
"This should be the easiest free-trade agreement in the history of mankind, we're beginning from a position where we have zero tariffs already and we have 100 percent regulatory and legal equivalence," Fox said. "The only reason why we wouldn't get a very liberal, open, agreement is because politics got in the way of economics and prosperity. That would be a great pity."
— With assistance by Matthew Miller, and Guy Johnson
Before it's here, it's on the Bloomberg Terminal.
LEARN MORE