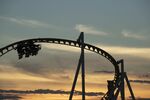 The price of ethereum dropped about 20 percent at the height of a selloff in cryptocurrencies this week. That's bad news.
What's even worse is that it rebounded as much as 14 percent soon after. There's a word for this kind of fluctuation: volatility.

Volatility is the enemy of viability for a currency that seeks to be widely accepted. The world lost its mind when the British pound plunged last year following the Brexit vote. Yet the size of the one-day drop was a mere 8 percent. That's a measure of what's considered abnormal in currency markets.
The fact that cryptocurrency watchers tend to shrug when prices whiplash is a fundamental challenge to general adoption. An asset that rises and falls 20 percent in a day doesn't make for a good medium of exchange with which to buy coffee. Ethereum produced a headline-grabbing 24-fold return this year, with a daily standard deviation of 7.6 percent.  
Behind the cryptocurrency's massive run-up and collapse over the past few months has been the advent of initial coin offerings. We've written before about the ICO phenomenon and how that may shake out.
A few standouts have set increasingly higher fundraising records including Bancor, which closed on June 12 after drawing in $153 million. By early July, Tezos and Asia-based Block One raised $200 million and $185 million respectively within just five days  -- and both are still open to new investors. 

But while we denominate this funding in U.S. dollars, those startups were actually paid in ethereum. And since the power company, the janitor and most lawyers don't accept ethereum, management has little choice but to convert some of it into fiat currency. Multiply this by the hundreds of ICOs that were launched in the past few months and suddenly you have buckets of cryptocurrency that need to be sold.
The four large ICOs alone raised more than $500 million in a matter of weeks, while daily trading of ethereum averages less than $350 million this year. Imagine the selling pressure.
A lot was exchanged into U.S. dollars, but the friction and costs of converting into fiat mean much was instead swapped for bitcoin. This is still the dominant digital currency, with far greater liquidity, which has helped keep bitcoin relatively stable.

That explains the decline. But what about the rebound?
Unlike bitcoin, ethereum was founded to build smart-contract functionality into its blockchain. That's a key reason why the currency has been at the heart of all of these ICOs -- because startups actually use the underlying digital ledger (technically: ether is the currency, ethereum is the blockchain) in their products and services.
Those hoping ethereum will become a transactional currency shouldn't hold their breath, because there's mounting evidence that even bitcoin isn't enjoying the widespread adoption proponents had expected.

Aiding ethereum are signs that the ICO trend isn't over yet, including talk of an impending mega-offering from publishing enterprise Press.One. To get in on this or any other ICO, investors will need to buy ethereum, which should drive prices back up. Magnifying that will be people who anticipate the renewed demand and buy ahead of the expected uptick -- we call them speculators.
At the end of the fundraising cycle, though, that ethereum will once again need to be sold for cash. Forcing prices back down. Rinse and repeat.
Eventually, something has to give. The ICO boom won't last forever. If ethereum's backers are lucky, this cooling of demand will lead to a drop in volatility. The ethereum market may even become boring and mundane.
Take a look at the British pound last summer and you may realize that boring isn't so bad after all.
Before it's here, it's on the Bloomberg Terminal.
LEARN MORE