Politics
Did Donald Trump Jr. Provide the Smoking Gun?
The overeager son's emails raise the serious legal question of conspiracy.
By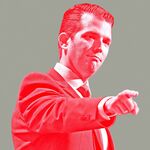 With the Donald Trump Jr. email news, it's time to stop talking vaguely about collusion with the Russians. "Collusion," as such, isn't a crime. But conspiracy is, and Trump Jr.'s startling July 11 admissions raise the question of whether he and other senior members of his father's camp engaged in a conspiracy to violate U.S. election law.
For a year, President Trump, his eldest son, and his political lieutenants have derided suggestions that they sought or received assistance from Russia to win November's election. Trump Jr. severely undermined that strategy of flat denial when he used Twitter to release an email exchange that shows him welcoming a meeting in June 2016 with a "Russian government attorney" said to have damaging information about Hillary Clinton. Senator Mark Warner of Virginia, the top-ranking Democrat on the Senate Select Committee on Intelligence, said: "This is the first time that the public has seen clear evidence of senior-level members of the Trump campaign meeting with Russians to try to obtain information that might hurt the campaign of Hillary Clinton."
The email exchange is certain to draw the attention of Special Counsel Robert Mueller, who's investigating possible ties between Russian election meddling and the 2016 Trump campaign. Mueller's prosecutorial staff is likely already weighing whether Trump Jr.'s apparent eagerness to gather damning material about Clinton from Russian sources constitutes a crime.
U.S. election law forbids a foreign national from "directly or indirectly mak[ing] a contribution or a donation of money or other thing of value" to an American political candidate. It also prohibits an express or implied promise to make a ­contribution or ­donation. A U.S. citizen who conspires to assist with or solicit a contribution or donation also risks prosecution.
The question then becomes whether political dirt meant to hurt a presidential candidate is a "thing of value." In Trump Jr.'s case, "there's certainly strong enough evidence to open up an investigation," says Brendan Fischer, director of Federal Election Commission reform at the Campaign Legal Center, a Washington watchdog group. On July 10, Common Cause, another Washington nonprofit, filed a complaint with the Department of Justice and the FEC, urging the agencies to investigate Trump Jr. Common Cause alleged that the president's son, "in his role with the Trump campaign, illegally solicited a political contribution from a foreign national—in the form of opposition research he believed would be damaging to the Hillary Clinton campaign."
The notion that information could be considered a thing of value hasn't been tested in a criminal case, according to Robert Weisberg, co-director of Stanford Law School's Criminal Justice Center. Stretching election law in this fashion would risk criminalizing "a lot of things we just accept as politics," he adds. Agreeing, professor Jonathan Turley of George Washington University Law School said in an email that categorizing information as a political donation raises serious First Amendment questions. "Under that interpretation, information on Trump's business practices shared by a foreign academic or nongovernmental organization would be a crime," he said.
Before considering a possible indictment, prosecutors will likely want to find out more about what actually happened at the June 2016 meeting, whether it led to follow-up communications, and what, if any, anti-Clinton information the Russians ever provided the Trump campaign. Trump Jr.'s email chain, for example, doesn't refer to the hacking of the Democratic National Committee or the Clinton campaign, which hadn't yet been publicly reported at the time the emails were exchanged.
Thus far, this is what's known about the meeting Trump Jr. was so eager to attend. The derogatory information was described as coming from officials in Moscow seeking to help then-­candidate Trump. "This is obviously very high level and sensitive information but is part of Russia and its government's support for" Trump's White House bid, said one email from Rob Goldstone, a British publicist with ties to the Trump family who brokered the meeting on behalf of a client he said was working with the Kremlin. "If it's what you say it is I love it," Trump Jr. replied.
The Russian government "offered to provide the Trump campaign with some official documents and information that would incriminate Hillary and her dealings with Russia and would be very useful to your father," Goldstone wrote. Trump Jr. posted the correspondence on his Twitter account after the New York Times published several articles on the meeting.
Trump Jr., 39, said in a statement that he released the emails "to be totally transparent" about the June 9, 2016, meeting with Russian attorney Natalia Veselnitskaya. "The information they suggested they had about Hillary Clinton I thought was Political Opposition Research," he added.
A spokesman for his father's personal legal team said the president didn't attend the meeting and wasn't aware of it at the time it happened. In a Twitter post early on July 12, Trump said of his son: "He was open, transparent and innocent. This is the greatest Witch Hunt in political history. Sad!" Also in attendance at the meeting at Trump Tower in New York were then-Trump campaign manager Paul Manafort and Trump Jr.'s brother-in-law, Jared Kushner, who's now a top White House adviser. The meeting lasted only 20 or 30 minutes, and "nothing came of it," said Alan Futerfas, a criminal defense attorney Trump Jr. hired a day before his email release.
These revelations rank among the most important turns in the Russia scandal, including the resignation in February of former national security adviser Michael Flynn, the president's ouster of FBI Director James Comey in May, and the disclosure that Kushner sought to establish a back-­channel line of communication to the Kremlin during the transition.
In any investigation, Veselnitskaya would be a key witness. She told NBC News that she never worked for the Russian government and had no derogatory information about Clinton. She insisted that she met with Trump Jr. to discuss sanctions imposed by the U.S. on Russia. Asked about Trump Jr.'s account that he hoped to receive "political opposition research," Veselnitskaya responded: "It is quite possible that maybe they were longing for such an information. They wanted it so badly that they could only hear the thought that they wanted." —With Shannon Pettypiece and Jennifer Jacobs
BOTTOM LINE -
Trump Jr.'s emails raise a legal question: Does his meeting with a Russian lawyer count as soliciting a political contribution from a foreign national?
Before it's here, it's on the Bloomberg Terminal.
LEARN MORE