Your Evening Briefing
Bloomberg News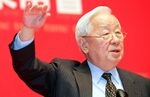 The evening briefing will soon be available in your inbox every day. To be among the first to get it, sign up here.
Asia has a new 86-year-old billionaire, thanks to Apple's secret new iPhone. Morris Chang is the chairman of  the world's largest contract chipmaker, Taiwan Semiconductor Manufacturing, which produces parts for Apple and has seen a 25 percent share price surge on expected demand for the company's latest models. Chang, an MIT graduate and TMSC shareholder, stepped down as the chipmaker's chief executive more than a decade ago, only to return to the job in his late seventies when business hit a rough patch. A shrewd move.
A Singapore warehouse giant has picked a Chinese suitor in Asia's biggest buyout. Global Logistics has chosen a bidder consortium from China for final talks on a deal valuing the company at about $10 billion. E-commerce companies such as Alibaba and JD.com are driving a boom in demand for warehouse space in Asia.
China's low sperm count has created a billion-dollar market. A paradox has emerged in Asia's biggest economy: as the country finally relaxes its one-child policy, many people are finding it harder to get pregnant. The higher stress levels accompanying economic development, pollution, late marriage, smoking and alcohol use may all share some of the blame. Yet the desire for children looms large, and that's driving major demand for services like IVF.
How leaving China for a better life in Hong Kong backfired. At 67, Fok Mei-sung survives by collecting cardboard boxes to sell to recyclers for a couple of dollars a day. And there are thousands of other elderly workers like her. Many of them migrated from China to Hong Kong in the late 1990s seeking to improve their families' livelihoods, just as China's economic boom really took off. As Fok struggles to make enough money to eat in Hong Kong, she says her former neighbors on the mainland are now wealthy, having sold their farmland to developers. 
Southeast Asia's cheapest currency is giving Malaysia a trading edge.  The country's fortunes are turning, after a couple of years of slowing growth, declining investor sentiment and a corruption scandal involving state-owned investment fund 1MDB. The ringgit is down more than 7 percent against the dollar in the past year, and while exports from Indonesia to Vietnam are surging, Malaysia is out in front. Foreign investors are also bullish on the country's stock market.
Don't blame climate change for the largest iceberg ever. It weighs a trillion metric tons, has a surface area the size of Delaware, and it's just broken off the edge of Antarctica. But don't worry, the iceberg jettisoned off the Larsen C ice shelf isn't as terrifying as it sounds. The mass of ice was always floating — it's the freely floating element that's new. That said, whether scientists can directly tie the iceberg to climate change has no bearing on the long-term trend, which reveals that pollution is warming the Earth.
One billion tons of iron ore are headed for China . Imports by China this year are on course to exceed 1 billion metric tons by a comfortable margin, breaking 2016's record, after figures for the first half showed another jump in cargoes and highlighted the ability of the largest steelmaker to absorb rising seaborne supplies.
Sorry, Instagram. YouTubers are the new key influencers in travel.  Vlogging is becoming big business, with the most successful vloggers raking in $7 million a year. And travel creators are poised to steal the spotlight on platforms like YouTube, just as they have on Instagram. Meet five creatives who have unlocked a profitable new industry — by always being on vacation. 
Before it's here, it's on the Bloomberg Terminal.
LEARN MORE