markets
Central Banks' Hawkish Turn Swerves Clear of Asia, For Now
By
Hours after Canada hiked rates, Korea affirmed it's on hold

The picture could change quickly as exports drive Asian growth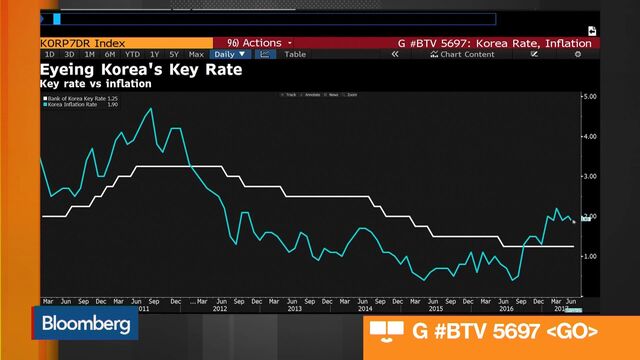 Start your day with what's moving markets in Asia. Sign up here to receive our newsletter.
A hawkish turn from central bankers has rattled global markets. But in Asia, the doves still fly.
The region's six biggest monetary authorities, which oversee economies accounting for almost a third of global output, haven't signaled a desire to fall in line with their Western counterparts to raise borrowing costs just yet.
Few expect the Bank of Japan to significantly change its massive bond buying program anytime soon. China's authorities remain in supportive mode, even as they curb a lending binge. India is tipped to ease again, as growth sags and inflation slows to record lows, while South Korea, Indonesia and Australia are firmly on hold. Vietnam made a surprise cut last week.
Hours after Canada tightened policy for the first time in seven years, the Bank of Korea held rates steady and made it clear they are in no rush to raise borrowing costs. Bank Negara Malaysia also held its benchmark interest rate Thursday and gave few signs of a need to tighten.
"We've not seen a single central bank in Asia signal outright tightening," Frederic Neumann, co-head of Asian economic research at HSBC Holdings Plc in Hong Kong, told David Ingles on Bloomberg Radio.
The dovish outlook could change quickly, of course. The global economy's strongest synchronized upswing since 2010 has seen Asian exports growing at the fastest pace in six years. The International Monetary Fund projects growth of 5.5 percent, the world's strongest, for Asia-Pacific this year.
Global Recovery
"A synchronized global recovery is improving Asia's growth prospects and will prompt the region's central banks to begin normalizing policy," said Chua Hak Bin, a Singapore-based senior economist with Maybank Kim Eng Research. "Policy divergence will slowly morph into policy synchronization."
Candidates to tighten could include the Philippines and Singapore, with potential for Indonesia to follow.
Still, a return to the days of moving in tandem with the Federal Reserve appear to be far away. While Janet Yellen has pulled the trigger four times since 2015, her Asian counterparts haven't responded. Contained wage costs and subdued commodity prices are keeping a lid on inflation in much of Asia. Signs of a breakout in China's factory prices--once tipped to revive global inflation--are fading.
"They won't be front-runners right after the Fed," Alicia Garcia Herrero, chief Asia-Pacific economist at Natixis SA in Hong Kong, told Bloomberg Television's Yvonne Man.
Stronger currencies and soaring debt are other reasons why Asia's central banks are cautious about lifting interest rates. China's total debt pile has climbed to 260 percent of the economy's size from 160 percent in 2008. Japan's borrowing is more than twice the size of gross domestic product and household leverage in South Korea and Australia is at records.
Asia's economies are also well placed to handle capital outflows in case major central banks raise rates, noted Shilan Shah, a Singapore-based economist at Capital Economics.
Trump Impact
Then there's Donald Trump. The threat of heightened trade tensions between the U.S. and China continue to linger, and the latest trade flare-up comes with South Korea. On top of this, there are worries over how the U.S. president will respond to North Korea, which weighs on sentiment.
China's central bank is straddling both sides of the debate. On the one hand, it raised borrowing costs in the money market to cut leverage and to support the yuan, only to ease again. Growth in China's broad money supply was the slowest on record in June. At the same time, growth in on-balance-sheet bank loans beat analyst expectations. 
That's because policy makers are ensuring sufficient credit is flowing to keep the economy on track for the government's growth target of at least 6.5 percent this year. Gross domestic product is expected to grow at 6.8 percent in the first half, well above the official target, according to the median forecast of economists surveyed by Bloomberg.
"China's monetary policy will remain neutral, not too tight or loose," said Gao Yuwei, a researcher at the Bank of China Ltd.'s Institute of International Finance in Beijing. "Unless there's a big slide in economic growth."
Kuroda's BOJ
Even as the the Bank of Japan's balance sheet approaches almost the full size of the $4.8 trillion economy, Governor Haruhiko Kuroda's price goal of 2 percent remains nowhere in sight. Core inflation excluding fresh food is stuck at around a half percent. Most economists surveyed by Bloomberg don't expect any form of tightening until after Kuroda's current term ends in April next year.
Besides, any tightening by the Fed or other trading partners is a positive for Japan as it will help to keep the yen weak. Kuroda, a former top currency bureaucrat, last month pledged to stick with the record easing program. The yen has weakened about 2 percent against the dollar since his remarks a month ago.
For India, record-low inflation has raised questions over the country's growth prospects and added pressure on the central bank to lower rates perhaps as early as next month. With inflation expectations anchored in the near term, unemployment rising and capital investments slowing sharply, the Reserve Bank of India may just abandon its neutral policy bias adopted just over five months ago.
Indonesia was Asia's biggest rate-cutter last year, easing monetary policy six times, but has been on hold since October, signaling a neutral stance.
"Most Asian central banks will remain on hold well into 2018," said Rob Carnell, chief economist for Asia at ING in Singapore.
— With assistance by Nasreen Seria, Yinan Zhao, Toru Fujioka, David Ingles, Yvonne Man, and Anirban Nag
(
Updates with Malaysia's central bank decision in fourth paragraph.
)
Before it's here, it's on the Bloomberg Terminal.
LEARN MORE