Here's Another Billionaire Trump Nominee
By
Doug Manchester, nominated as Bahamas envoy, worth $1 billion

Hotel magnate known as 'Papa Doug' files financial disclosure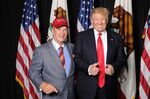 Add yet another billionaire to Team Trump.
Douglas "Papa Doug" Manchester, the San Diego hotel developer nominated by President Donald Trump in May as the U.S. ambassador to the Bahamas, has a net worth of $1 billion, based on a Bloomberg Billionaires Index analysis following his financial disclosure to the Office of Government Ethics. Manchester, 75, who has never appeared on another international wealth ranking, is awaiting Senate confirmation.
Among his holdings are hotels and commercial properties in San Diego, Austin, Texas, and McCall, Idaho, with a market value of $837 million, according to data provided by Real Capital Analytics, a real estate investment data service. Manchester probably has $130 million in mortgages on the properties. The disclosure shows he also owns about $300 million in securities and Fox Hill, the former estate of the Copley family. He and the Copleys once owned the San Diego Union-Tribune newspaper.
A call to the billionaire at his company, Manchester Financial Group LP, was directed to Stephanie Brown, a spokeswoman who didn't immediately reply to a message seeking comment.
Earlier this week, New York Jets owner Robert "Woody" Johnson IV, nominated by Trump to serve as the U.S. ambassador to the U.K., was added to Bloomberg's ranking of the world's 500 richest people with a net worth of $4.2 billion. Commerce Secretary Wilbur Ross and Small Business Administration chief Linda McMahon are also billionaires.
Dingman Connection
Manchester reported an interest in Shipston Investment Co., a New Hampshire subsidiary of a Bahamas holding company owned by former Fisher Scientific International Inc. Chairman Michael Dingman, who renounced his U.S. citizenship in 1994. That prompted accusations that he did so to avoid paying taxes, which Dingman denied in a 1995 interview with the New York Times.
Manchester also owns about $45 million of stock in Geopark Ltd., a Santiago, Chile-based energy exploration company where Dingman, 85, is a board member. Shipston has investments in industrial business in the U.S. and China, according to its website.
Manchester has five children and 12 grandchildren, according to his website. He's married to Geniya Derzhavina, a native of Russia.
See also: Jets owner tapped as U.K. ambassador joins 500 richest
Before it's here, it's on the Bloomberg Terminal.
LEARN MORE