politics
Qatari Investors Are Optimistic About Tillerson's Efforts to Solve the Gulf Crisis
By , , and
Qatari bonds, stocks post best 3-day rally in more than a year

Increased tension would reverse gains: Arqaam, Legal & General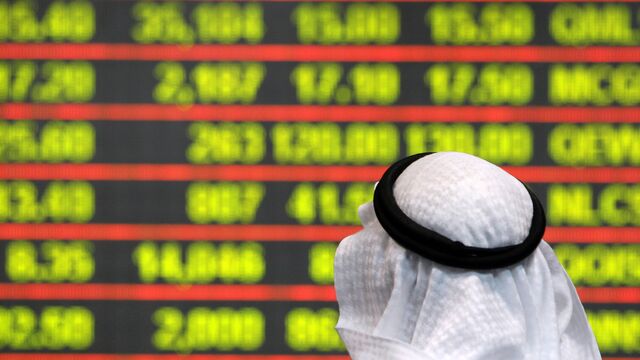 Investors are buying into the latest U.S. reconciliation effort in the Persian Gulf, lifting Qatari assets even as a month-long dispute with the nation's Arab neighbors shows few signs of resolution.
U.S. Secretary of State Rex Tillerson is in the midst of his second trip to the region since a Saudi Arabian-led bloc of Arab countries severed diplomatic ties with Qatar in June, as well as most travel and trade, on allegations the nation supports terrorism. Qatar, which denies the claims, saw its assets extend gains on Thursday after Tillerson said its positions were "reasonable" and the two countries signed an agreement to combat terrorism.
The American diplomat's effort is producing ideas that may lead to reconciliation, according to three officials with knowledge of the talks.

Government bonds of the world's biggest natural gas exporter surged this week, pushing yields back down to trade below those of Dubai and just above Saudi Arabia's. Qatar's benchmark equities index had the best four-day rally in more than a year, while its credit default risk retreated from a 17-month high.
"The market is obviously trying to read the tea leaves based on these political headlines that are coming through," said Abdul Kadir Hussain, the head of fixed-income asset management at Dubai-based Arqaam Capital Ltd. "If the headlines turn negative you could easily see the bonds drop again."
The QE Index of stocks rose 2 percent in Doha, capping a 6.4 percent rally since Sunday's close. The yield on Qatar's international bonds due in 2026 is down more than 30 basis points since the start of the week to 3.5 percent, while the cost of insuring that debt against default for five years declined 18 basis points over that period to 106, according to data provider CMA.
"Given Qatari bond spreads have been trading so significantly wide of Gulf Cooperation Council peers and oil energy exporters in emerging markets, the slightest positive news from regional geopolitics will likely lead to buying of bonds again," said Simon Quijano-Evans, an emerging-market strategist at London-based Legal & General Investment Management Ltd., which oversees about $1.2 trillion of assets. "Looking ahead, while foreign investors will buy into peace, the surprise jump in tension will keep them more wary than before, implying an added risk premium."
(
Updates with mediation progress in the third paragraph, prices in the sixth.
)
Before it's here, it's on the Bloomberg Terminal.
LEARN MORE