politics
Russian Lawyer Who Met Trump Jr. Saw a Clinton Scandal in Tax Inquiry
By , , , and
An offer of foreign tax allegations against Clinton supporters

Russian lawyer denies she had information to harm Democrats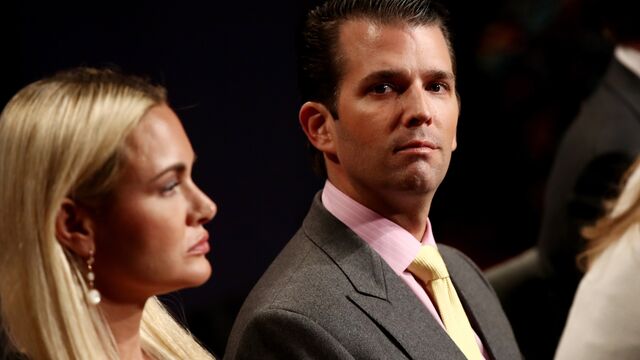 Donald Trump Jr. was tantalized by an offer of Russian government documents that would be damaging to Hillary Clinton's presidential campaign. But the Russian he met days later had been shopping around information that was hardly a bombshell.
Around the time of last summer's meeting with Trump Jr., Russian attorney Natalia Veselnitskaya was peddling a new political spin on a well-worn international scandal, according to one person familiar with her work. She was focusing on hedge fund manager William Browder, the subject of her scorn and of a film she was promoting, and on Ziff Brothers Investments LLC, which had invested with Browder, the person said. 

Russian prosecutors said they were opening new lines of inquiry against these investors. What Veselnitskaya saw in these steps were alleged tax improprieties that would be a black mark on the Democratic Party, because Browder and at least one member of the wealthy Ziff family had contributed to the Clinton Global Initiative, the person said. 
No charges have surfaced in Russia against the Ziffs. Browder called Russia's investigation last year a politically motivated rehash of old allegations. The Ziff family, through a spokesman, declined to comment. Veselnitskaya didn't respond to requests for comment. 
Veselnitskaya was no stranger to U.S. officials at the time of the Trump Tower meeting in New York. She was a champion of an agenda dear to the Kremlin -- pressing to roll back the Magnitsky Act, a U.S. law that branded 18 Russians as human-rights abusers. It was named for Sergei Magnitsky, a lawyer who worked for Browder's Hermitage Capital Management and died in a Moscow prison after uncovering what he said was a tax fraud that diverted $230 million from Russian taxpayers into the pockets of a handful of civil servants.The 2012 law angered the Kremlin, which then prohibited most adoptions from Russia to the U.S., chilling relations between Washington and Moscow.
On another occasion, Veselnitskaya got taxpayers to foot a $1,000-a-night tab at New York's Plaza Hotel, irking prosecutors in Manhattan pursuing a related tax case. She was also denied a U.S. visa, leading to what she called a humiliating strip search at Heathrow Airport in London.
Differing accounts have surfaced of what was discussed on June 9, 2016, when Veselnitskaya met with Trump Jr., Jared Kushner and the Trump presidential campaign manager, Paul Manafort. Trump Jr. and his lawyer have said Veselnitskaya talked about adoption issues and called her presentation "inane nonsense." In a Monday night interview with NBC News that aired Tuesday, Veselnitskaya brushed aside any notion that she worked for the Russian government or had compromising information on Clinton.
The meeting, and the motivations behind it, came under intense scrutiny Tuesday after Trump Jr. posted an email conversation with a British publicist who had set it up promising Clinton information. In the email thread, the President's son is shown pursuing information that he was told came from Russia's government, deepening problems for the White House, which has said repeatedly that campaign officials didn't collude with Russians.
Wanted It 'Badly'
Veselnitskaya isn't identified by name in the emails, and the younger Trump said he didn't know her identity before the meeting. She told NBC that she never had any damaging or sensitive information about Clinton to share with the campaign. "It's quite possible that maybe they were looking for such information, they wanted it so badly," she said through a translator.
Her meeting with the Trump camp came together in a matter of days, according to the emails. The thread begins with a June 3 note from Rob Goldstone, a former British tabloid journalist and publicist who represents Emin Agalarov, a pop star in Russia. Agalarov's father has close ties to senior Russian government officials and brought Trump's Miss Universe pageant to Moscow. The Russian government supported Trump's campaign, Goldstone wrote, and Emin's father had recently met with a top Russian prosecutor who was offering the Trump camp "sensitive" documents that would incriminate Clinton.
"I love it," Donald Jr. responded. Goldstone offered a meeting with "the Russian government lawyer." Trump Jr. said he'd bring along Kushner and Manafort.
Scott Balber, a lawyer for the Agalarovs, denied his clients were intermediaries with the Russian government and said Goldstone's email contained several inaccuracies. Veselnitskaya is an acquaintance of Emin, not a government lawyer, who was put in touch to talk about non-election matters, Balber said. 
Goldstone didn't respond to requests for comment. Russia's prosecutor general didn't immediately respond to a request for comment. Kremlin Spokesman Dmitry Peskov declined to comment.
Old Thread
Veselnitskaya's apparent interest in Browder and Hermitage picked up a decade-old thread. Browder, who was pressing for greater transparency in Russia's financial sector, was kicked out of the country in 2005. Russian officials accused him and his lawyer, Magnitsky, of tax evasion and put them on trial -- Browder in absentia, and Magnitsky after his death. Browder was convicted of tax fraud in 2013.
Just weeks before the Trump Tower meeting, Russia's general prosecutor had returned to the matter. On May 19, 2016, the office issued a statement that its investigation into purchases of shares in gas giant Gazprom by Browder's Hermitage Fund and his investors, including Ziff Brothers, had found they evaded more than 1 billion rubles ($16 million) in Russian taxes, transferring the profits to Ziff-controlled companies overseas. Russian prosecutors said they suspected the transactions also may have violated U.S. law and that they planned to send an international-assistance request to the U.S. seeking a probe.
Veselnitskaya repeated those allegations in comments to the Russian press about the Magnitsky case at the time. 
On June 4, 2017, Yuri Chaika, Russia's general prosecutor, said on national television that his agency "has presented serious evidence of violations of the law by Browder and the Ziff brothers" to U.S. officials. There's no indication of any U.S. response to that claim.
Browder described the matter as"stale FSB allegations" recycled from a decade earlier, referring to a Russian security agency. He added that Veselnitskaya was well known for her opposition to the Magnitsky Act and that she and "her Russian backers probably had a number of carrots they were trying to dangle in front of the Trumps."
There is no indication that the Trump team attempted to make use of any information about Browder or Ziff. And anyone might have shrugged at their contributions to the Clinton Global Initiative: Browder's firm, Hermitage Capital, is listed as a contributor of $10,000 to $25,000 because he paid to attend a CGI conference about a decade ago. Ziff Brothers' Daniel Ziff is recorded as contributing $50,000 to $100,000 to CGI.
The Clinton Global Initiative didn't respond to requests for comment.
Kushner's father in fact was a contributor. Charles Kushner has given the Clinton group $250,000 to $500,000, based on the records on the website. According to Veselnitskaya's description of the Trump Tower meeting on NBC, Jared Kushner left after only a few minutes. The Kushners did not respond to requests for comment.
$995 Hotel Room
Veselnitskaya, a Moscow-trained lawyer who has said in U.S. court filings she doesn't speak English, has spent most of the last several years working on cases for Russian state-owned and private clients, including Moscow's Sheremetyevo International Airport.
She's also traveled to the U.S. in a matter related to the Magnitsky affair -- her only case outside of Russia, she has said. She represented Denis Katsyv, the owner of Prevezon Holdings Ltd., an investment company based in Cyprus accused by the U.S. of laundering gains from the alleged tax fraud against the Hermitage Fund into New York real estate. Prevezon settled the case for $5.9 million in May, while admitting no wrongdoing.
The case caused the Justice Department consternation because of expenses associated with depositions. Three businessmen –- among them Katsyv, son of an ex-Moscow region transportation minister -- charged the government more than $50,000, including a stay at the Plaza Hotel and a $793.29 dinner for five that included 18 dishes, eight grappas and "two expensive bottles of wine," according to Assistant U.S. Attorney Margaret Graham.
Among the charges was a two-night stay at the Plaza for Veselnitskaya, billed at $995 a night -- even though she wasn't deposed and didn't attend the depositions in person, Graham wrote.
"Ms. Veselnitskaya appears to have stayed at a less expensive hotel during the depositions, but moved to the Plaza after the depositions concluded, and only after the Court orally stated that the government would be responsible for reimbursing defendants' expenses," Graham wrote on Nov. 25, 2015. The funds came from money seized by the government. She called the payments for four days of pretrial depositions "amply sufficient" and urged the judge not to accept any more expenses from the group.
Veselnitskaya had her own complaints. According to her letter to the judge, the government denied her a visa to enter the U.S. to represent Katsyv. The government also denied entry visas for her children to join her over the Christmas holidays. Instead, she received what she described as a "parole letter" allowing her to enter the country -- which she said led in November 2015 to a two-hour detention at Heathrow and the "humiliation" of a strip search.
Shouting 'Shame'
Days after the Trump Tower meeting, she appeared in Washington, D.C., for the screening of the film, "The Magnitsky Act — Behind the Scenes," at the Newseum. The movie's premise is that Browder himself was behind the fraud, and it attempts to cast doubts on whether Magnitsky was tortured to death. The screening ended with shouts of "shame" and "lies" from the audience, according to the Associated Press.
Afterward, Veselnitskaya told Sputnik News that she had filed a report with Congress, claiming that Browder had duped Congress into adopting the Magnitsky Act, which placed financial and travel sanctions on individuals associated with the alleged tax fraud.
The next month, Browder's Hermitage fund sent a letter to the U.S. Justice Department's National Security section urging prosecutors to investigate whether eight individuals, including Veselnitskaya, had followed U.S. laws requiring representatives of foreign governments to register as foreign lobbyists.
In March of this year, U.S. Senator Charles Grassley, without naming Veselnitskaya, called for people involved in pushing back against the Magnitsky Act to register as agents.
Veselnitskaya has never registered as a foreign agent or lobbyist, according to Justice Department registrations dating to the 1940s and Senate Office of Public Records documents dating to 1999.
— With assistance by Ilya Arkhipov, Tom Metcalf, and Gregory White
(
Adds in fourth paragraph that the Ziff family declined to comment.
)
Before it's here, it's on the Bloomberg Terminal.
LEARN MORE