Mets, Patriots Owners Said to Pay $20 Million for Esports Teams
By , , and
They're among seven groups joining Activision Overwatch league

Game companies bet they're creating the next NFL or NBA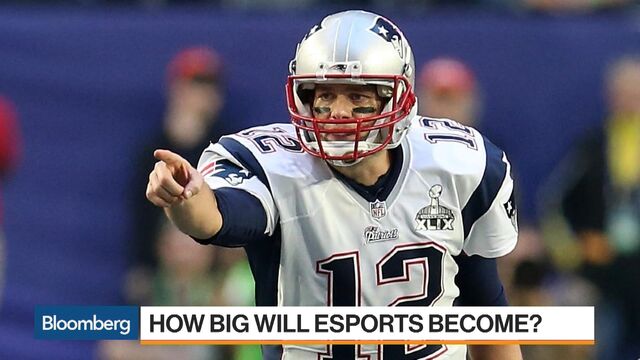 Activision Blizzard Inc., the video-game giant looking to play a bigger role in the emerging esports business, sold franchise rights in seven cities for competition based on its hit Overwatch title.
The investors each agreed to pay Activision $20 million over time, people with knowledge of the matter said. They include major team owners such as the New England Patriots' Bob Kraft, who will control the Boston franchise, and Jeff Wilpon, whose family owns the New York Mets and will run the team in that market, Activision said Wednesday in a statement.

Activision CEO Bobby Kotick sees esports as a potentially lucrative new part of the $109 billion video-game business, with multimillion-dollar media rights, sponsorship opportunities and globally recognized stars. 
"We've never had any doubt about the opportunity for our owners and players," Kotick said in an interview.
Profitability for both the league and individual teams is expected in three years, one of the people said. In esports, professional video-game players compete live and online before crowds of fans. Game publishers see the competition as a way to showcase titles and connect with fans. 
Other franchise owners include the Los Angeles-based Immortals, whose backers include Lions Gate Entertainment Corp. and the Anschutz Entertainment Group; Misfits Gaming, which bought the Miami-Orlando rights; and NRG Esports, the San Francisco franchisee that counts Sacramento Kings owners Andy Miller and Mark Mastrov as founders. Two international teams were sold, one to Chinese internet provider NetEase in Shanghai and the other to Kevin Chou, a co-founder of the mobile-gaming company Kabam, for Seoul.
Revenue Sharing
"It's an honor to be selected as one of the ownership groups in the inaugural season of its new league," said Wilpon, a co-founder and partner of Sterling.VC, which is backing the New York team. "We view our participation in the Overwatch League as a major opportunity to take a lead position where technology is converging with sports and media."
Teams will share league-wide revenue from advertising and broadcast rights. They'll get to keep local revenue up to a set amount each year. Sales of licensed merchandise will be split between the teams and the league, which is wholly owned by Santa Monica, California-based Activision.
The first competitions for the Overwatch League will be played in Los Angeles later this year. More teams are expected to be named with a target of 8 to 12 by opening day.
Overwatch, a cartoonish version of a shooting game, features six-player teams competing against each other in a future version of Earth. Activision introduced the game last year and it now has 30 million players worldwide, according to the company. While Overwatch was designed specifically for esports, it remains to be seen whether the relatively new title can sustain the viewership and advertising necessary to become a major esports business.
Activision is attempting to create a more formalized, city-based structure for an activity that largely sprung up through the grassroots efforts of a number entrepreneurial team promoters.
The leader in esports is Los Angeles-based Riot Games, part of China's Tencent Holdings Ltd. Riot said last month it would begin selling local franchises for tournaments based on its League of Legends, an online strategy game. Last year, Riot sold League of Legends media rights for $300 million over seven years to BamTech, a joint venture of Major League Baseball and Walt Disney Co. Some of the Overwatch franchisees have other esports investments.
Other game publishers are taking a more cautious approach. Electronic Arts Inc., maker of Madden NFL, FIFA and other games, has sponsored tournaments with contestants playing its soccer titles for years. The company said in June that players will compete for the right to represent their favorite real-life teams. Take-Two Interactive Software Inc. announced an esports league in partnership with the National Basketball Association. Neither company has tried to sell franchises.
Steven Bornstein, a former ESPN and NFL executive brought in to help run Activision's esports push two years ago, said the business has revenue opportunities traditional sports lack. They include the ability to put local franchises all over the world, to sell virtual team merchandise in games and ways for advertisers to connect with young audiences that watch less traditional TV.
"These media rights are going to be distributed worldwide and pretty aggressively," he said in an interview.
Before it's here, it's on the Bloomberg Terminal.
LEARN MORE