May to Avert Nuclear Fallout Ahead of Brexit Repeal Bill
By
Britain in talks with U.S., Japan on nuclear cooperation deals

Tories signal opposition to government's Euratom pullout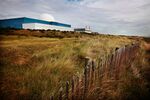 The U.K. is preparing a departure from Euratom that will keep disruptions to a "minimum," as the government moves to quell concerns that ending European nuclear cooperation could put cancer patients at risk.
The assurances came from Energy Minister Richard Harrington during a debate in Parliament on Wednesday. The transportation of radioactive materials used to diagnose and treat cancer has become grounds for a potential rebellion by Conservatives opposed to Brexit and Prime Minister Theresa May's hard approach to it.
Read more about why Tories are jumping on Euratom row
"Our primary aim throughout these will be to maintain our mutually successful civil nuclear cooperation with Euratom and the rest of the world," Harrington said. "We're preparing the nuclear safeguards bill, we're opening negotiations with the EU, we're talking to third countries about bilateral agreements, and finally of course we're talking to the International atomic Energy Agency."
The issue is coming to a head as the government presents the repeal bill that will graft European Union statutes into U.K. law books and mark the moment when the British are taking control of their legal destiny. Deprived of her majority in last month's election, the premier relies on party loyalty and the votes of 10 Democratic Unionists from Northern Ireland to pass legislation.
The government will publish three Brexit position papers, including on Euratom, ahead of the bill's presentation on Thursday to the House of Commons.
Six Tories
During the debate, at least six Tories spoke out in favor of retaining Euratom membership or of brokering an associate agreement with the body.
Trudy Harrison, a Tory lawmaker, said 76 percent of jobs in her constituency in northern England depend on the nuclear industry and that continued membership of the treaty -- or swiftly devising alternative arrangements -- is "absolutely vital."
So while May signaled her intention to pull out of the European Atomic Energy Community back in March, she is now a politically diminished figure vulnerable to pressure from those in her party that want to maintain ties to the EU.
Other Conservatives to speak in favor of Euratom membership included former Culture Minister Ed Vaizey, Richard Graham and Antoinette Sandbach. They add to at least six other Tories who have previously indicated support on the issue.
That is enough Tories to potentially deliver May a defeat in any vote on the issue in the lower house. Harrington dodged questions about whether the U.K. would seek associate membership of Euratom, saying that the government will publish a position paper "imminently."
He said talks with European counterparts on the issue are due to start next week, and that in the interim, Britain is also holding discussions with the U.S., Canada, Australia and Japan to secure nuclear cooperation agreements to replace current deals that operate through Euratom.
Before it's here, it's on the Bloomberg Terminal.
LEARN MORE