Latin America's Scandals Burn Emerging-Market Bond Funds
By
Pictet, Neuberger, JPMorgan funds underperform in first half

Brazil, Peru corruption allegations curb debt returns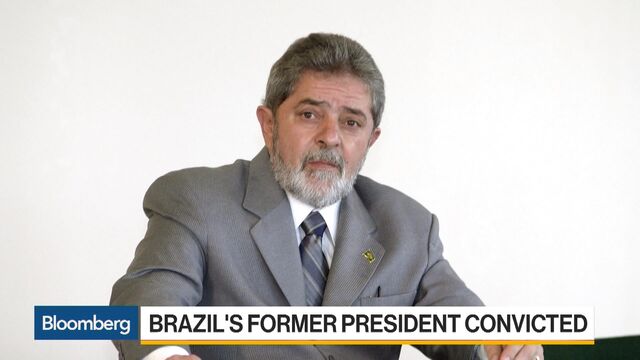 While emerging-market bonds extended an 18-month rally through June, money managers at some of the world's largest debt funds were left in the dust.
Developing-nation funds from Pictet Asset Management Ltd., Neuberger Berman Group LLC and RBC Global Asset Management Ltd. ended the first half of 2017 as the worst performers in their class, according to data compiled by Bloomberg. Portfolios managed by BlackRock Inc. and JPMorgan Chase & Co.'s asset-management unit also finished in the bottom quartile.
Much of the underperformance traces to Latin America, which has been a favorite of many of the biggest bond funds since early 2016. The region's debt has proven less lucrative this year with market-friendly presidents from Brazil to Peru dogged by corruption scandals. Latin American sovereign dollar bonds have returned 5.8 percent this year through June compared with an average of 14 percent in 2016.
The Pictet Short Term Emerging Corporate Bonds Fund, managed by Alain Defise, came in last place for the first six months of 2017, according to a Bloomberg analysis of developing market debt funds with at least $1 billion in assets. The $1.3 billion fund returned 2.2 percent for the period compared to an average gain of 7.6 percent for its peer group.
Defise piled into Brazilian corporate debt in the months leading up to a May sell-off when corruption accusations ensnared President Michel Temer. The Pictet fund has also been overweight Chinese firms, whose returns have lagged the emerging-market average this year. Defise and Sarah Weigall, a Pictet spokeswoman, declined to comment.
The Neuberger Berman Short Duration Emerging Market Debt Fund suffered from exposure to Brazil, where bonds from JBS SA, the meatpacking company at the center of the nation's latest scandal, dropped in value. The portfolio returned 2.4 percent in the first six months of this year.
The fund, which favors lower volatility credits, bought more Brazilian notes after the Temer scandal erupted, considering the debt attractive at those levels, according to Jennifer Gorgoll, co-manager of the portfolio.
The objective of the Short Duration fund is not to beat a benchmark by moving in and out of credits but to provide a return of cash plus 300 basis points over a cycle of three to five years. The firm says a more direct comparison to its fund is the Neuberger Berman Emerging Market Hard Currency Fund, which returned 7.8 percent in the first six months of 2017. That fund has $529 million in assets.
After ranking in the top-third of peers last year, the $3.8 billion BlackRock Emerging Market Bond Fund returned 5 percent in the first half of 2017 as bets on high-yielding Venezuelan and Russian notes failed to replicate 2016 returns.
The $1 billion JPMorgan Emerging Markets Strategic Bond Fund gained 5.1 percent this year through June after ranking in the bottom third last year. (See chart below.) Exposure to local Colombian and Russian notes as well as international bonds from Oman and Chinese companies contributed to the underperformance.
Here are the worst performers from January to June.
The Bottom Five
| Fund | Total Return 1H | Total Return 3Y | Total Return 5Y |
| --- | --- | --- | --- |
| Pictet Short Term Emerging Corporate Bond Fund | 2.2% | 10.5% | N/A |
| Neuberger Berman Short Duration Emerging Market Debt Fund | 2.4% | 7.4% | N/A |
| Pictet Global Emerging Debt Fund | 4.0% | 11.6% | 22.8% |
| RBC Emerging Markets Bond Fund | 5.0% | 9.3% | 18.5% |
| BlackRock Emerging Market Bond Fund | 5.0% | 15.9% | 27.7% |
Source: Bloomberg data of emerging-market funds with assets of at least $1 billion and comprised of 95 percent debt.
So how did funds in this category outperform? Top sovereign bond returns in the first half came from Cameroon, Mongolia and Costa Rica, according to data compiled by Bloomberg, nations that often comprise a small percentage of holdings for the largest emerging-market funds.
That explains how the $1.1 billion Fonditalia Emerging Markets Global Bond Fund topped the list with a 14 percent return for the period. The portfolio benefited from bets on bonds from Mongolia, Egypt, Costa Rica and the Dominican Republic and trimming exposure to Peru, Brazil and Venezuela in mid-Spring.
Even some of last year's best performers faced turbulence in the first half.
After beating 96 percent of peers in 2016, the $1.1 billion DoubleLine Emerging Markets Fixed Income Bond Fund returned 5.9 percent in this year's first half. That put the fund in the 31st percentile. In the five years ending June 30, it ranked in the 69th percentile. Its second-largest holding, Argentine bonds due in 2027, declined 0.8 percent in the first six months of the year, Bloomberg data show. A spokesman for DoubleLine declined to comment.
The $1.3 billion Ashmore Emerging Markets Debt Fund also lost ground. Overweight positions in Venezuela and Ecuador helped it top all of its peers last year as the notes led world gains. In the past six months, however, the fund was beaten by nearly two-thirds of peers as those trades unraveled.
Officials from BlackRock, JPMorgan, RBC and Ashmore declined to comment.

Notes from Brazil and Venezuela that underperformed earlier this year are likely poised to rebound in the second half, according to Greg Saichin, the chief investment officer for emerging-market bonds at Allianz Global Investors in London, which has $511 billion under management.
"For Brazil, the political scandal is somewhat priced in and investors know the possible scenarios in the context of falling inflation and future rate cuts," he said. "For Venezuela, I find it difficult to expect a credit event in 2017 if the country has the liquidity to service both coupons and upcoming amortizations."
Before it's here, it's on the Bloomberg Terminal.
LEARN MORE