politics
Democrats Ask DOJ About Settlement Involving Trump-Linked Lawyer
By
Russian lawyer who met with Donald Trump Jr. connected to case

Justice, Cyprus-based company settled in money-laundering suit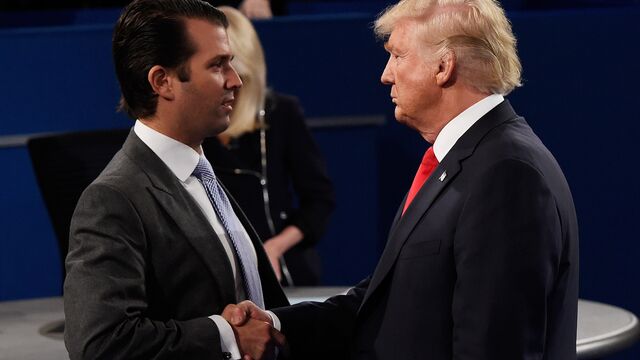 Democrats on the House Judiciary Committee asked the Justice Department to explain a decision to settle a money-laundering case in May that involved the Russian lawyer who held a controversial meeting last year with Donald Trump Jr. 
Democrats are interested because one of the lawyers involved in the case was Natalia Veselnitskaya, who met with President Donald Trump's son in an encounter arranged with the promise of damaging Russian government information on Democratic presidential candidate Hillary Clinton.
Veselnitskaya worked with a Cyprus-based company, Prevezon Holdings Ltd., that is controlled by a Russian businessman and was accused of a tax theft and money laundering scheme.
The U.S. agreed on May 12 to take $5.9 million to settle the lawsuit tied to a $230 million Russian tax fraud, avoiding a trial that was set to begin the following week.
Lawmakers' Letter
The 17 House Democrats asked Attorney General Jeff Sessions in a Wednesday letter whether the involvement of Veselnitskaya, who they called a "Kremlin-connected attorney," may have helped prompt the settlement, given her meeting with Donald Trump Jr. The president's son said Veselnitskaya didn't share anything related to Clinton and that the discussion centered mostly around adoption policy.
"We write with some concern that the two events may be connected -- and that the department may have settled the case at a loss for the United States in order to obscure the underlying facts," they wrote in the letter.
The letter pointed to emails released Tuesday by Donald Trump Jr. that they say shows his meeting with Veselnitskaya was delayed at least once because "the Russian attorney" was "in court."
"We now understand that Ms. Veselnitskaya was otherwise engaged as counsel for Denis Katsyv, owner of Prevezon, and that she could not meet with Mr. Trump because she was scheduled to be in federal court defending her client against charges of fraud and money laundering," their letter states.
The Justice Department declined to comment. In a May statement, James Margolin, a spokesman for the Manhattan U.S. Attorney's office said: "The nearly $6 million represents three times the money that flowed to Prevezon from the Russian treasury fraud and more than 10 times the portion they invested in U.S. real estate."
'Substantial' Connections
In a separate statement Wednesday, the top Democrat on the Judiciary panel, John Conyers of Michigan, said, "The connections here are too substantial to ignore. Why was a Russian money-laundering case involving more than $230 million dismissed without explanation?"
The Justice Department attempt to seize a lower Manhattan condominium acquired by the Russians and other assets began four years ago with then-Manhattan U.S. Attorney Preet Bharara filing the claim. Bharara was fired along with other U.S. attorneys in March by Trump and Acting Manhattan U.S. Attorney Joon Kim, Bharara's successor, announced the settlement in May.
"Was the firing of Preet Bharara in any way related to his office's prosecution of these crimes? Wittingly or unwittingly, was the Department of Justice involved?" the Democrats wrote. "Even if these facts are mere coincidence -- and there is reason to be doubtful that they are mere coincidence -- they merit immediate explanation by the Attorney General and immediate investigation by the House Judiciary Committee"
Before the settlement, U.S. government lawyers intended to argue that a trio of Russians bought U.S. assets with ill-gotten cash, including money made from defrauding Hermitage Capital, once the largest foreign owner of Russian stocks. The Russian businessmen denied the claims, saying there was no evidence to support they were part of the scam or that they knew the money was dirty.
Hermitage Chief Executive Officer, Bill Browder, who started a private investigation into the tangled web of companies that he alleged were created to move cash from the tax fraud out of Russia was expected to testify at the trial, providing a glimpse of how funds flowed from Russia to Moldovan and Latvian banks and into companies such as Prevezon via wire transfers routed though banks in the U.S.
Browder was barred from Russia more than a decade ago. One of his lawyers, Sergei Magnitsky, complained to Russian authorities that Hermitage was a victim of a fraud. He was arrested and died in a Russian prison at 37. Magnitsky's death triggered a diplomatic standoff between Moscow and Washington and tit-for-tat sanctions, with Bharara being one of several Americans barred from Russia.
Browder said he saw the Prevezon settlement as a victory in his pursuit for justice in Magnitsky's November 2009 death.
— With assistance by Bob Van Voris, and Jef Feeley
Before it's here, it's on the Bloomberg Terminal.
LEARN MORE