China Says It Will Not Disrupt Legitimate Internet Access
Bloomberg News
Regulators say they won't cut off authorized access to web

Statement follows a Bloomberg News report issued Monday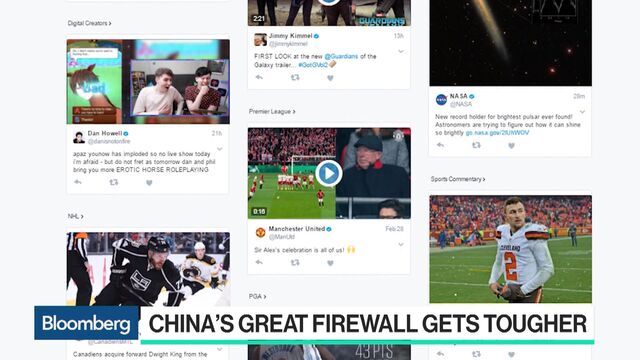 A Chinese ministry said it will not disrupt legitimate access to the global internet by businesses and general users, after a Bloomberg report it had ordered telecommunications carriers to bar individuals from using services to circumvent its Great Firewall.
The Ministry of Industry and Information Technology's existing notice governing the use of virtual private networks, issued January, should not affect activities of local and foreign businesses or users in general, it said in an emailed statement.
"Trade or multinational enterprises, if they require leased lines or other methods to access the internet abroad, can turn to authorized telecommunications entities," the ministry said in its brief statement. "The (January) notice will not affect normal operations."
The ministry's statement followed Bloomberg's report Monday. China's government has told telecommunications carriers to block individuals' access to virtual private networks by Feb. 1, people familiar with the matter said, thereby shutting a major window to the global internet.
Beijing has ordered state-run telecommunications firms, which include China Mobile, China Unicom and China Telecom, to bar people from using VPNs, services that skirt censorship restrictions by routing web traffic abroad, the people said, asking not to be identified talking about private government directives.
The clampdown will shutter one of the main ways in which people both local and foreign still manage to access the global, unfiltered web on a daily basis. China has one of the world's most restrictive internet regimes, tightly policed by a coterie of government regulators intent on suppressing dissent to preserve social stability. 
On Wednesday, local media outlet The Paper cited the ministry as saying that it had never issued a notice banning personal VPNs to carriers, and that unspecified foreign media reports on that topic were inaccurate.
— With assistance by Edwin Chan
Before it's here, it's on the Bloomberg Terminal.
LEARN MORE