Venezuela Cut Deeper Into Junk by S&P
By
Nation's long-term ratings lowered to CCC-, outlook negative

S&P expects Venezuelan inflation to be about 950% in 2017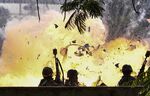 The world's riskiest credit got another jolt after S&P Global Ratings lowered Venezuela's rating deeper into junk as the economy spirals down amid heightened political tension.
S&P reduced the nation's long-term foreign and local currency ratings to CCC-, or three notches below investment grade, from CCC on Tuesday. The New York-based company kept its negative outlook for Venezuela, signaling room for further downgrades. Fitch Ratings and Moody's Investors Service also rank the country at speculative levels. 
"Recent developments have raised the risk of default, including through a debt exchange that we would view as a distressed exchange, within the next six months, absent unanticipated significant improvement in Venezuela's economic and political conditions," S&P analysts led by Manuel Orozco wrote in a statement on Tuesday.
Speculation on a Venezuelan default is mounting as international reserves tumble amid anti-government protests and President Nicolas Maduro's push to rewrite the constitution. The implied probability of the country missing a payment over the next 12 months rose to 56 percent in June, according to credit-default swaps data compiled by Bloomberg. That's the highest level since December. The odds of a credit event over the next five years increased to 91 percent last month.
Maduro, who has faced three months of violent protests that have left dozens dead, has drastically cut imports of food and medicine in order to conserve the cash needed to pay bondholders with declining oil prices and production. That hasn't stopped a drop in reserves, which usually provide investors with a certain degree of assurance that the government will avoid default in the short-term. Recent deals to provide the government with liquidity have only resulted in minor spikes that have disappeared quickly.
S&P said it expects the Andean nation's economy to contract by at least 6 percent this year. It estimates inflation of 950 percent in 2017, compared to 500 percent last year.
Venezuela's benchmark dollar bonds due in 2027 dropped 1 percent to 49.79 cents on the dollar on Tuesday, the most in nearly a month.
The country faces payments on principal and interest of more than $5 billion in the remainder of the year, although no large sums are due before October.
"Failure to introduce substantial corrective measures to stabilize the economy, alleviate shortages, and reverse the recent growth in political polarization could lead to worsening external liquidity and debt default," the ratings company said.
— With assistance by Nathan Crooks
Before it's here, it's on the Bloomberg Terminal.
LEARN MORE