business
Yellen Heads to Congress Wondering Why Job Market Hot, Wages Not
By , , and
Fed chair testifies amid strong job market and low inflation

Congressional questions can range from technical to weird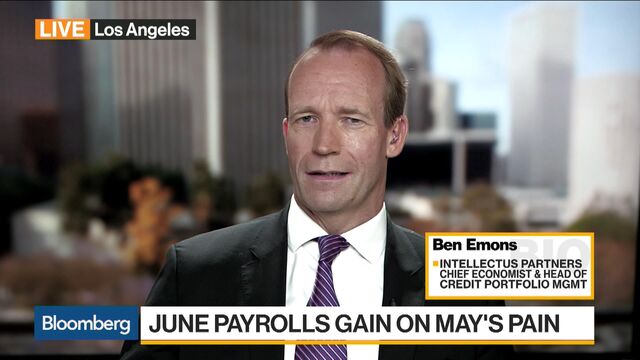 Janet Yellen is getting ready to feel the heat, and not just because it's July in Washington.
The Federal Reserve chair, during her semiannual testimony to Congress over the years, has been quizzed on topics ranging from the Volcker rule to God's plan for interest rates. Yellen's opening statement will be released at 8:30 a.m. Wednesday and her hearing before the House Financial Services Committee starts at 10 a.m., followed by the Senate Banking Committee the next day.
Here are some questions that members of Congress could ask that would shed light on the core monetary policy issues in what could be Yellen's final appearance before U.S. lawmakers. Her term as chair expires on Feb. 3 and President Donald Trump has not yet indicated if he'll nominate her to a second term or pick someone new.
If they ask one thing, lawmakers ought to pin down where she stands in a key debate splitting the policy-setting Federal Open Market Committee:
Will running the labor market a little hot help drive up wages and inflation, or does that risks unleashing rampant price pressures and another asset bubble?
Minutes of the FOMC meeting in June showed a camp of officials who saw benefits from allowing the unemployment rate to run below its long-run normal level -- estimated at 4.6 percent, according to the median quarterly forecast last month -- for a "sustained" period.
Facing off against this group were several other officials who expressed concern over the potential risks of a "substantial and sustained" unemployment undershoot. The jobless rate has averaged 4.5 percent so far this year but wages have not seen much of a bump and inflation has been under the Fed's 2 percent target for most of the last five years.

In fact, recent readings on inflation have shown unexpected weakness. Pressing Yellen to discuss her views on these risks will help show where the FOMC's center of gravity lies on the issue and the sense of urgency to keep tightening monetary policy.
That flows into another vital question for the Fed chair:
How soon do you expect to start shrinking the Fed's massive bond portfolio?
Fed officials have laid out a plan for reducing the size of the central bank's bloated balance sheet, at first by $10 billion a month and eventually speeding up to $50 billion a month. They haven't said when they'll start.
Fed watchers say it is unlikely the central bank will want to begin cutting the balance sheet and, simultaneously, raise rates. So any clue on the former will help markets predict when the Fed is likely to move on the latter. Based on pricing in federal funds futures contracts, investors appear to expect the balance sheet draw-down will start in September, with the next rate hike pushed back to December.
Officials have also not said when they'll stop the process of roll-off, which leaves open how big the balance sheet will still be once the process of getting it back to a more normal size has run its course. So an easy follow-up question for Yellen: How big will the balance sheet be when you're done trimming?
With all that stimulus to the economy, some Fed officials are raising questions about possible bubbles forming. Yellen recently said that asset prices by some measures "look high, but there's no certainty about that." That begs another critical question:
How are financial market prices and financial conditions figuring into your assessment of the economy and monetary policy?
Yellen's remarks on asset valuations last month followed a comment by San Francisco Fed President John Williams that he was concerned by complacency among investors and the stock market "seems to be running very much on fumes," while Fed Vice Chairman Stanley Fischer on the same day mentioned an increase in risk appetite.
The trio of comments left Fed-watchers wondering whether the message was coordinated, and if so, what the Fed was trying to communicate.
Asset prices surfaced again in the Fed's monetary policy report to Congress last week which noted that "valuation pressures have increased further across a range of assets, including Treasury securities, equities, corporate bonds, and commercial real estate."

Central bank research has suggested that the Fed can't effectively lean against bubbles with the blunt tool of monetary policy. Any insight on whether the Fed is rethinking that view out of a desire to avoid repeating the mistakes that led up to the 2008-2009 financial crisis could reinforce the sense that they'll stick with projections for three rate hikes next year.
Prices in federal funds futures contracts currently imply that investors only see one, or maybe two rate hikes in 2018.
Before it's here, it's on the Bloomberg Terminal.
LEARN MORE