business
Shkreli Claimed to Have $100 Million While Overdrawn on Fund
By and
Retrophin charged $10,000 for Jay-Z tickets, prosecutors say

Jurors shown records of money shuffles from funds to company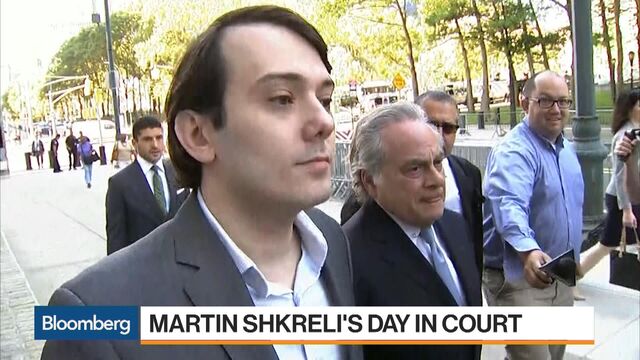 Martin Shkreli boasted to potential clients in his hedge funds that he was managing as much as $100 million. In reality, prosecutors say, the net asset value of his fund MSMB Capital at one point fell to minus 33 cents, and never held more than $1.2 million.
Prosecutors on Tuesday showed jurors a series of transactions between Shkreli's hedge funds, brokerage accounts, his startup drug company and his personal accounts to back their allegation that the former pharmaceutical executive was duping investors with bogus claims about his holdings.
The records also showed that within days of investors putting money into Shkreli's hedge funds, he repeatedly shuffled it around. The investments would sometimes show up as transfers to Retrophin Inc., the pharmaceutical startup, according to the records.
Shkreli, who gained international notoriety for raising the price of a potentially life-saving drug by 5,000 percent, is on trial in Brooklyn, New York, accused of operating his businesses as Ponzi schemes. Prosecutors say he took investors' money from the hedge funds to start Retrophin without their authorization, and later used $11 million from the drug company to repay the investors in the hedge funds.
Jurors saw that after Shkreli made a disastrous trade on Feb. 1, 2011, his hedge fund's net asset value also plummeted, from high of $1.1 million the day before to just $55,786 on Feb. 28, recording a balance of minus 33 cents by July of that year.  
Jay-Z Tickets


Shkreli also charged Retrophin's credit card $10,000 for the purchase of tickets to a Jay-Z benefit concert at Carnegie Hall in February 2012, according to records presented by prosecutors.
As soon as money went into Shkreli's hedge fund, it was moved: on the same day as an investor sent a $850,000 wire transfer to Shkreli's hedge funds on Feb. 3, 2012, $900,000 was transferred from the funds' accounts to Retrophin, according to the records.
Under questioning by prosecutor Alixandra Smith, forensic accountant Wendy Spaulding showed jurors that Shkreli moved tens of thousands of dollars out of his hedge fund into his own personal bank accounts. One record showed that Shkreli also moved more than $1.3 million from Retrophin, the company he created after closing his hedge fund, to his personal account.
The case is U.S. v. Shkreli, 15-cr-0637, U.S. District Court, Eastern District of New York (Brooklyn).
(
Updates with details of failed trades at the fund in fifth paragraph.
)
Before it's here, it's on the Bloomberg Terminal.
LEARN MORE