politics
Theresa May's 'Reset' for U.K. Government Comes Off the Rails
By
Foreign secretary says U.K. isn't planning for no Brexit deal

Davis says practical implementation may cause delays on deal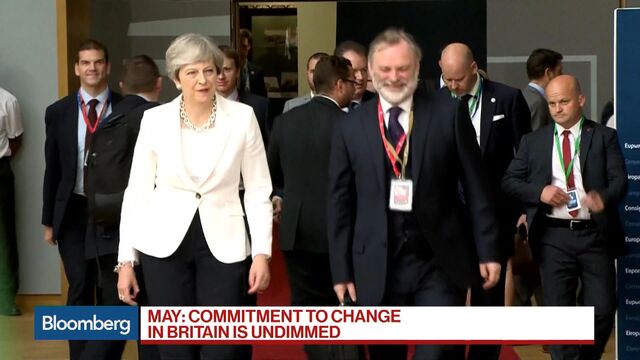 U.K. Prime Minister Theresa May attempted a "reset" for her government after last month's election losses, but the bid was undermined by confusion over Brexit policy and a health scandal dating back decades.
In a speech Tuesday at the launch of a review of working practices, the premier reached out to other parties, urging them to work with her to ensure British workers are given fair pay and conditions, saying "big decisions" need to be made so Britain emerges from Brexit "stronger and better."
"Though the result of last month's general election was not what I wanted, those defining beliefs remain, my commitment to change in Britain is undimmed," May said. "I say to the other parties in the House of Commons, read this report, engage in the difficult issues it raises, come forward with your own views and ideas."
Her overture was immediately rebuffed, with the main opposition Labour Party saying that the prime minister's record was "one of failing working people and workers' rights."
The premier's olive branch is a symptom of her weakness. Stripped of her majority, she's secured the backing of the 10 lawmakers from Northern Ireland's Democratic Unionists on key votes, including on Brexit. But to pass other items on her list, she needs to build cross-party consensus.
"We may not agree on everything, but through debate and discussion, the hallmarks of our parliamentary democracy, ideas can be clarified and improved and a better way forward found," May said.
But even as May spoke, her foreign secretary, Boris Johnson, was causing her trouble by telling lawmakers that the government isn't planning for the contingency of failing to broker a Brexit deal with the European Union. May has repeatedly said that "no deal is better than a bad deal."
"There's no plan for no deal because we're going to get a great deal," Johnson said. May's spokesman, James Slack, appeared to contradict the foreign secretary a few minutes later when he told reporters that "contingency planning is taking place for a range of scenarios."
Johnson's remark shows "a shocking level of complacency," said Tom Brake, the spokesman on Brexit for the Liberal Democrats. "It is simply not good enough when people's jobs, living standards and rights are all on the line."
'Go Whistle'
Answering questions in Parliament, Johnson also agreed with euro-skeptic Tory lawmaker Philip Hollobone who suggested the foreign secretary should "make it clear to the EU that if it wants a penny piece more" from Britain as part of the Brexit settlement, "it can go whistle." Johnson responded that "the sums that I have seen that they propose to demand from this country seem to me to be extortionate."
Labour leader Jeremy Corbyn was cited by the Press Association newswire as saying it was "ridiculous for the foreign secretary to approach important and serious negotiations with that silly, arrogant language that he so often employs." 
Later in the day, Brexit Secretary David Davis sought to dispel the impression that May is softening her stance on Brexit, telling the House of Lords EU Committee that "the major elements have not changed." He hinted that Britain may need to stay in the EU's customs union during a transition phase beyond March 2019 in order to allow other nations to set up new customs arrangements.
"I believe we can get a free-trade negotiation and a customs-agreement negotiation concluded within the period," Davis said. "What will be much more difficult, however, is to get all the practical implementations that go with it. Not so much for us," he said, before suggesting it might take longer for France, Belgium and the Netherlands to sort out their systems.
'Very Substantive'
Davis also said his goal in upcoming Brexit talks "is not to pay more than we need to" in terms of an exit bill. He said that the government aims to reach a "very substantive" agreement on the rights of EU citizens living in Britain, and that while the government had "agonized" over allowing them to bring family members to Britain, it had concluded "it wouldn't be right to give 3 million people rights that British citizens haven't got."
Much media attention was meanwhile drawn away from the reset bid by the government's announcement of an inquiry into transfusions of blood contaminated with HIV and hepatitis C that were given to thousands of people by the state-run National Health Service in the 1970s and 1980s. Pressure from opposition parties for a probe had been growing, and the announcement came just hours before Parliament was due to debate the issue.
In a further sign of May's precarious position, the premier was forced Monday to suspend a Conservative member of Parliament for using "offensive and racist language."
While the lawmaker, Anne Marie Morris, is still unlikely to vote against Tory policy, the incident will do little to help May in her goal of dispelling her own 2002 definition of the Conservatives as the "nasty party."
— With assistance by Thomas Penny, and Robert Hutton
(
Updates with Davis starting in 12th paragraph.
)
Before it's here, it's on the Bloomberg Terminal.
LEARN MORE