May's Northern Irish Ally Pushes for U.K. Single Market Exit
By and
DUP wants U.K. to exit customs union with European Union

Wilson says wants U.K. to win freedom to do own trade deals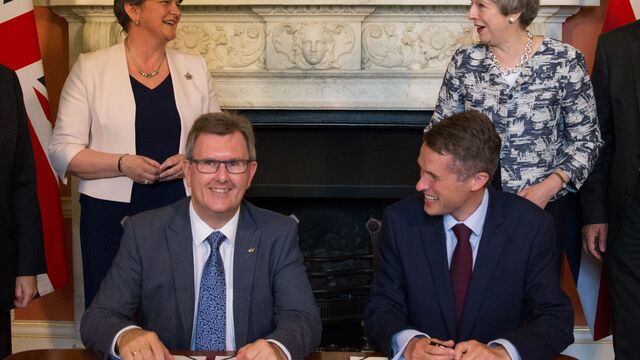 Northern Ireland's Democratic Unionist Party, which is propping up Theresa May's minority government, will push for the U.K. to exit Europe's single market, one of its senior lawmakers said.
Quitting the single market and tariff-free customs union is the "logical position" after Britain leaves the EU, Sammy Wilson said in a Bloomberg Radio interview on Tuesday. May relies on the DUP's 10 lawmakers in Westminster to pass laws.

"When we campaigned to leave the European Union we wanted freedom from the interference which the EU brought about in terms of laws and regulations in the U.K. That means leaving the single market," Wilson said. "We also wanted freedom to do our own trade deals with the expanding parts of world's economy and that meant being free of the customs union."
The DUP's new-found influence following last month's election stoked speculation that May will soften her stance on Brexit given how reliant Northern Ireland is on trade with the Irish Republic. While DUP leader Arlene Foster has said she wants a "sensible" Brexit and a "frictionless border, " the party has yet to spell out in detail how that might work.
EU Brexit negotiator Michel Barnier last week signaled that even a partial withdrawal from the bloc will have consequences for the U.K.'s ability to interact with the EU and that a "frictionless" trade relationship isn't feasible.
Wilson said any new border checks need not be any more intrusive than they are today.
"The technology has moved on," Wilson said. "Those checks can be done electronically."
Before it's here, it's on the Bloomberg Terminal.
LEARN MORE