business
Investors Are Jumping Back Into Hedge Funds
By
More allocators plan to boost holdings than reduce them

Quants surge in popularity, Credit Suisse global survey finds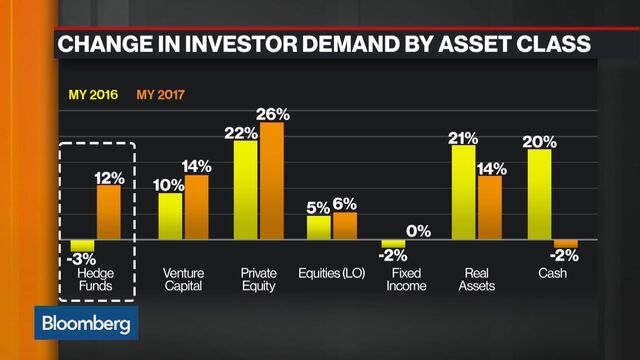 Investor interest in hedge funds is back on the upswing.
Hedge funds saw the biggest jump in demand among asset classes examined in a Credit Suisse Group AG report Tuesday. More allocators plan to boost their exposure to the funds than reduce it this year, it said. That's a pivot from mid-2016, when more investors intended to make redemptions, according to the survey which polled 212 investors globally last month representing almost $660 billion invested in the industry.
Continuing the bullish sentiment, 81 percent of investors surveyed said they plan to put at least some money to work in hedge funds over the next six months, compared with 73 percent last year. Eighty-seven percent of those who redeemed capital from managers in the first half expect to reallocate that cash back to hedge funds, according to the Credit Suisse Mid-Year Survey of Hedge Fund Investor Sentiment.
"Last year, investors were disappointed with hedge fund performance, and a lot of 2016 was spent making sure funds in their portfolio were the best-performing and weeding out ones they weren't enamored with," said Robert Leonard, global head of capital services at Credit Suisse. "Having that process behind them, they seem to be looking forward optimistically. Performance has been better and investors feel like they are also getting more constructive fee structures."

The $3.1 trillion industry has been beset with controversy in recent years, as managers battled a backlash over charging high fees while producing humdrum returns. Clients yanked more than $70 billion in 2016, the most since the financial crisis, according to Hedge Fund Research Inc. Net withdrawals declined to $5.5 billion in the first quarter of 2017.
The shift comes as HFR's Asset Weighted Composite Index fell 0.4 percent in June, reducing gains through the first half of the year to 2.4 percent. Equity and event-driven were the best-performing strategies in the half -- even though both trailed the S&P 500 Index -- while macro fared worst.
Read more: Allocators were dumping laggard funds a year ago, study found
Quantitative funds, which use computer-driven algorithms to guide investment decisions, may win big amid the renewed bullishness. Almost 60 percent of the survey respondents said they expect to increase their exposure to quant funds over the next three to five years.
"This comes after a period of time where some fundamental strategies have not performed as well, and investors are looking for reasons to diversify," Leonard said. "It's a bit of a battleground right now over people versus machine. Investors are trying to figure out what the right blend of each strategy might be."
Equity market-neutral quant funds are the third-most attractive strategy for investments over the next six months, topped by equity and discretionary global macro funds.
Before it's here, it's on the Bloomberg Terminal.
LEARN MORE