business
JPMorgan's Dimon Says EU May Force More Brexit Moves Later
By and
Bank will move 'several hundred' staff on day one after Brexit

JPMorgan CEO and HSBC chief Gulliver speak on Paris panel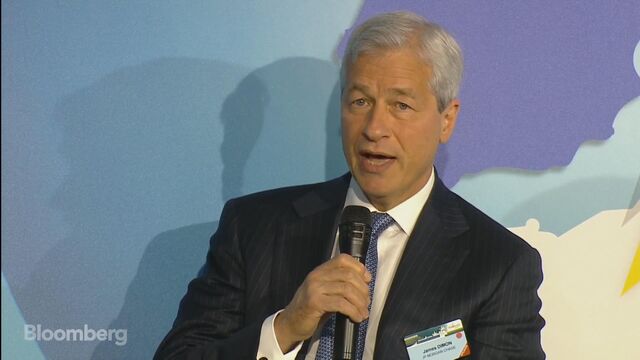 JPMorgan Chase & Co. Chief Executive Officer Jamie Dimon said European Union officials could force London-based firms to move substantially more employees abroad than planned if they demand additional banking operations be performed inside the bloc.
"We're going to have to move several hundred jobs" as a first response to Britain's plan to leave the EU, Dimon said Tuesday at a conference in Paris. "People should focus more on the second step, because what happens next is totally up to the EU."
"If the EU determines over time that they want to move a lot more jobs out of London into the EU, they can simply dictate that," he said.
Global banks are preparing to move some London-based operations into new or expanded bases inside the EU after British Prime Minister Theresa May began the formal process for quitting the 28-nation bloc. Before last year's referendum, Dimon told U.K. employees that as many as 4,000 could ultimately be relocated in the event of Brexit. Three quarters of the bank's 16,000 U.K. staff service EU customers.
"If regulators say one day 'we're not comfortable with your risk people, your lawyers, your compliance being in the U.K.,' they can make us move it," Dimon said. "We will be subject to what they do down the road, and hopefully we can handle that and continue to serve our clients in the meantime."
While the firm had chosen Frankfurt for its new EU investment-banking hub because it already has many of the necessary permissions and licenses from the German regulator, Dimon said staff would be dispersed widely across the region over the longer term.
"Where your legal entity is based is not where your people are based," he added. "The people could be in Paris, in the Netherlands, or Madrid or anywhere in the EU. We haven't decided yet."
The firm's custody business will be located in Dublin and treasury services will be handled in Luxembourg, a person familiar with the bank's plans said in March. JPMorgan will initially move between 500 and 1,000 staff, the person said at the time.
"Our preference is to stay where we are," Dimon said. "London has been a good home, other than the fact that they overtax us. We liked it just the way it is, but its not up to us. We simply have to respond to decisions made by governments."
HSBC Holdings Plc CEO Stuart Gulliver, speaking on a panel with Dimon at the same conference, repeated his estimate that his bank will relocate as many as 1,000 London-based jobs to Paris, depending on what kind of deal the U.K. ultimately agrees upon with the EU. 
Gulliver said there was a risk that some business done out of London would relocate to New York, Hong Kong and Singapore rather than to the Continent after Brexit. If the EU strips the U.K. of the ability to clear euro derivative transactions, Gulliver said the U.S. could impose a similar restriction on dollar deals, pushing up costs for companies.
"It is quite likely that New York will be a beneficiary of this," Gulliver said. "I think it is quite likely that Hong Kong will be a beneficiary."
Dimon disagreed, saying that as long as European politicians negotiated a sensible deal with their U.K. counterparts, most of business would remain in the region.
"They may be pockets picked up by the U.S., but I wouldn't consider it substantial," Dimon said.
(
Updates with comment in fourth paragraph.
)
Before it's here, it's on the Bloomberg Terminal.
LEARN MORE