Brazil Labor Reform Approved Despite Rising Political Crisis
By and
Senate backs legislation by 50 votes to 26 with 1 abstention

Passage shows support for reform agenda, not for Temer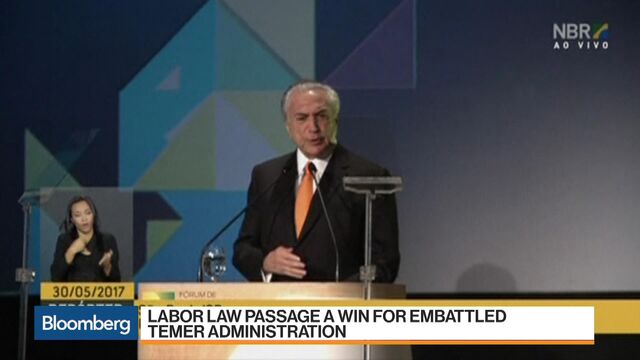 Brazil's Senate approved a bill aimed at loosening decades-old labor laws in a sign that legislators remain committed to enacting the government's reform agenda, despite fading support for President Michel Temer.
The upper house voted 50 to 26 with one abstention to pass the bill, which prioritizes direct negotiations between workers and employers over existing labor regulations. Senators rejected all three amendments to the bill, which will become law once signed by the president.

The passage of the labor reform bill represents a significant victory for the Temer administration, but while it consolidates legislative support for the government's economic program, it may make little difference to the president's chances of staying in office. As former allies begin to distance themselves from him, speculation is rife about the ambitions of the next-in-line to the presidency, house speaker Rodrigo Maia.

Temer could face a vote as early as this week in the lower house which would authorize his trial on a corruption charge at the Supreme Court. If that happens, the president would have to stand down while he defends himself. Maia has publicly denied vying for the top job, but he has also signaled his commitment to reforms to both political allies and investors.
The labor reform, which will also increase flexibility on overtime and holidays, was already well-advanced in Congress before the chief prosecutor's decision to press charges against Temer. But in a demonstration of the febrile political climate in Brasilia, Tuesday's vote was delayed for hours by a stand-off in the upper chamber when the Senate president ordered the power cut in an attempt to remove opposition senators from his podium.
A shake-up of Brazil's social security system faces widespread opposition. The government had originally hoped to pass the pension reform bill by the first half of 2017. With the president's future increasingly uncertain, the odds of securing Congressional approval for the unpopular proposal are receding.
— With assistance by Gabriel Shinohara
Before it's here, it's on the Bloomberg Terminal.
LEARN MORE