U.S. Stocks, Bonds Jump on Go-Slow Fed; Oil Climbs: Markets Wrap
Cecile Gutscher and Jeremy Herron
Russia imbroglio seen complicating Fed path to normalization

Oil recovers as inventories seen declining; Canada rates due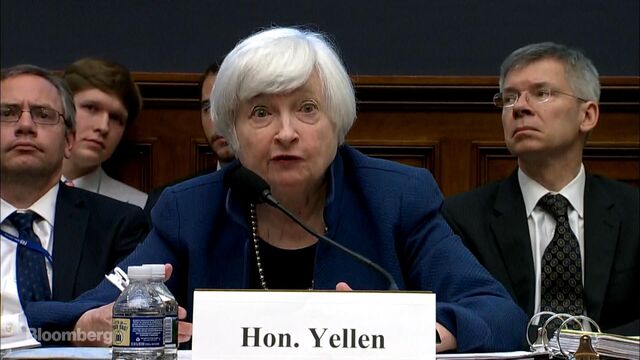 Start your day with what's moving markets in Asia. Sign up here to receive our newsletter.
U.S. stocks rose toward records, Treasuries rallied and the dollar retreated after Janet Yellen signaled the Federal Reserve won't rush to tighten monetary policy as inflation remains persistently below target.
The Dow Jones Industrial Average closed at a fresh all-time high, technology shares added more than 1 percent and emerging-market equities surged to levels last seen in 2015 as Yellen expressed confidence in the American economy while suggesting inflation rates won't force the Fed's hand.
The dollar fell versus most major peers, 10-year Treasury yields slid below 2.32 percent and gold futures rose. Oil bounced above $45 a barrel. The Brazilian real strengthened after former President Luiz Inacio Lula da Silva was convicted of graft and money-laundering, while Canada's dollar rallied on central bank tightening.
The statement from Yellen diverted attention from the release of emails by Donald Trump Jr. about his controversial meeting with a Russian lawyer, though concern remains that the latest saga in Washington may be an unwelcome distraction for the Fed seeking to dismantle a decade of monetary stimulus. The Fed chair made no mention of asset prices just a week after her comment that some looked "somewhat rich" added to selling in stocks and bonds.
Yellen's dovish tone came as the Bank of Canada raised interest rates for the first time in seven years even as inflation in the country remains stubbornly sluggish. Central banks around the world have been hinting that the accommodative policies in place for years may no longer be needed amid signs that the global economy is gaining traction.
Read our Markets Live blog here.
Here's what investors are watching:
Yellen will continue testifying Thursday.
JPMorgan Chase & Co., Citigroup Inc. and Wells Fargo & Co. report results this week.
The U.K. is due to publish its Repeal Bill on EU membership this week.
These are the main moves in markets: 
Stocks
The S&P 500 Index advanced 0.7 percent as of 4 p.m. in New York, 0.4 percent short of its closing record. Real-estate and technology shares led gains.
The Dow rose 123.58 points to a record 21,532.65, while the Russell 2000 Index added 0.9 percent, 0.2 percent from its high.
The Stoxx Europe 600 Index added 1.5 percent, led by builders and energy companies. The FTSE 100 rose 1.2 percent. 
Currencies
The Bloomberg Dollar Spot Index fell 0.4 percent. 
The pound strengthened 0.3 percent to $1.2884 after U.K. payrolls data beat estimates and unemployment fell to a 42-year low, erasing an earlier loss.
The yen gained 0.7 percent to 113.14 per dollar.
The euro fell 0.4 percent to $1.1422.
The loonie rose 1.4 percent to $1.27356.
Bonds
The 10-year U.S. Treasury yield dropped four basis points to 2.32 percent.
German benchmark bund yields rose three basis points to 0.58 percent.
Commodities 
West Texas Intermediate crude climbed 1 percent to settle at $45.49 a barrel. 
Crude inventories fell 7.56 million barrels last week, the EIA said. U.S. production, though, continued to rise, gaining 0.6 percent to 9.397 million barrels a day. At the same time, the Organization of Petroleum Exporting Countries is said to have set a meeting for July 17.
A billion-barrel crude discovery in Mexico could be just the lure the country badly needs to boost investment from oil majors.
Gold futures added 0.6 percent to $1,220.60 an ounce.
— With assistance by Stephen Kirkland, and Tom Keene
Before it's here, it's on the Bloomberg Terminal.
LEARN MORE