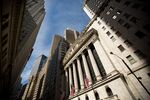 The governance structure used by companies such as Facebook, Alibaba and Volkswagen is going global, and not everyone is happy. Dual-class shares, as they're known, give company founders super-sized power over their businesses even if they only hold a small slice of the stock. While the formula is popular, especially among technology firms -- it blends public shares with the private-equity model -- many investors bristle at its undemocratic nature. Proposals by exchanges in London, Hong Kong and Singapore to allow dual classes mean they're likely to become more common, despite complaints.
1. What's the case against dual-class shares?
Opponents say they subvert the traditional one-share, one-vote system that's designed to give equal treatment to all shareholders. Dual shares challenge the bedrock notion that those who provide the capital should get a say in how the company is run, by conceding that some investors (usually the founders, their families and the venture capitalists who provide seed money) matter more than others. The rest have little clout -- none at all, in the case of Snap Inc. -- though they do usually get the same amount of dividends. Facebook's dual-class model gives company founder Mark Zuckerberg less than one percent of the social-media giant's publicly traded stock and 60 percent of its voting rights. That's how he could buy messaging app WhatsApp for $22 billion with little shareholder or board input.
2. Which exchanges allow dual-class shares?
Such shares, also known as weighted voting rights, are permitted by many bourses around the world, including in the U.S., Brazil, Canada, France, Italy, Sweden, Switzerland, Denmark, Russia and Finland. Rules and formats differ.
3. Who's trying to introduce them?
London, Hong Kong and Singapore, all of which fear they'll lose their status as financial hubs if they don't allow dual classes. The U.K. regulator in February floated the possibility of loosening its restrictions in a discussion paper on the effectiveness of its markets. Hong Kong's exchange operator, which lost out to the New York Stock Exchange on Alibaba's listing in 2014, is proposing to create a new trading venue to allow such structures. In Singapore, dual-class shares were included in a wider plan to remodel the economy for the next decade.
4. Why such interest?
In short, because Wall Street is bagging the hottest listings. While dual-class shares once were used mostly by family-owned firms (Ford Motor Co. and Warren Buffett's Berkshire Hathaway Inc.) and media companies (the New York Times Co.), the floodgates opened in 2004 with Google's dual-class initial public offering. The model was quickly followed by LinkedIn, Groupon, Zynga, Facebook and Fitbit. These companies' shares are included in major indexes, tracked by big money managers. That makes it more likely that such stocks are held by mom-and-pop investors in retirement accounts.
5. What do investors say?
They're increasingly raising alarms. They see risks, including abuse of management power and discouragement of takeover offers, which can dampen share prices. They also see a slippery slope: Google, for example, went on to offer shares with no voting rights at all in 2014. In April, the Asian Corporate Governance Association, whose members include Fidelity International and Aberdeen Asset Management Plc, came out against Singapore's dual-class plans, saying any benefits would be short-lived. In the U.S., the Council of Institutional Investors, whose members oversee more than $23 trillion, wants to bar non-voting shares from stock indexes. Still, many institutional investors end up buying shares in these companies, some of which are too big to ignore. BlackRock Inc., for example, has spoken against such share structures but is one of the largest investors in Facebook and in Google's parent, Alphabet Inc.
6. Are they good for companies?
Businesses with dual-class shares say they enable executives to resist the short-term expectations that often come with being publicly traded and constitute a defense against hostile takeover bids. There's no clear, consistent proof that the shares of such firms fare better or worse.
The Reference Shelf

Before it's here, it's on the Bloomberg Terminal.
LEARN MORE