Technology
The Retired Couple That Made Uber More Senior-Friendly
Common Courtesy helped design Uber Central and has inspired dozens of copycats.
By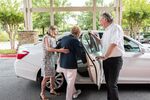 Bob Carr swears he didn't set out to hack Uber. The 67-year-old Atlantan just wanted to extend the ride-hailing app's convenience to hundreds of interested seniors who weren't big on smartphones. To work around the software's limits, in 2014 he started Common Courtesy Inc., a small nonprofit that created multiple Uber accounts to book rides on behalf of other people. "I had five different mobile phones with five different Uber accounts," Carr says. "We called it reengineering." He and his wife, Anne, gave the group accounts related names such as "Vets" or "Church."
Uber Technologies Inc. noticed, but this isn't that kind of Uber story. Instead of sending the Carrs a panicked cease-and-desist letter, the company last year dispatched five engineers to study Common Courtesy and some similar ventures. It's since built the one-phone, multiple-rides workaround directly into its app as a feature called Uber Central, which underpins more than 30 affiliated "chapters" of Common Courtesy across the country."We were pushing Uber into places it hadn't been," Carr says. "It was not their wheelhouse."
A decade ago, Carr got the idea for Common Courtesy after witnessing a close call with a senior who had just gotten behind the wheel after leaving a safe-driving class. In 2007 he and Anne patented the idea for a volunteer driving service coordinated via text messages, but they had trouble recruiting drivers. They picked up the project again when they discovered Uber in 2014. By the time company engineers spent three days with the couple in May 2016, the Carrs had a long wish list of ways Uber could build them a smoother model, starting with the ability to book and monitor several rides from one phone.

Common Courtesy was among the first groups to test Uber Central, which went live in late April and has picked up customers including Twenty Four Seven Hotels and roadside-assistance company Agero Inc. The feature lets one user manage as many as 15 rides at once. "We have designed our transportation system over the past 50 to 60 years around ­single-car drivers," says Travis Bogard, who oversees Uber Central. "That starts to be at odds with this aging population and their abilities."
The Carrs say they booked about 2,400 rides in June, and that number has been rising 15 percent to 20 percent in a typical month since they introduced their workaround system three years ago. They take a $3 fee on each ride they coordinate and $1 on rides coordinated by one of the other Common Courtesy chapters, which charge comparable prices depending on the market. Some customers provide credit-card information at sign-up so they can be charged automatically; others are billed. The Carrs say they're looking to cover their costs through higher volume, including a wider network of affiliated groups.
"I'm so happy that I don't just have to sit at home and read or sleep," says Dottie Mitchell, 82, of Virginia Beach, Va. Mitchell lost her license last year because of age and doesn't have a cell phone or computer, but she starts her day with a 9:45 a.m. Uber ride to visit friends at Starbucks with the help of her local Common Courtesy affiliate. Mitchell, one of about 40 clients of Common Courtesy Hampton Roads, also uses the service to get to and from exercise classes, a book club, and hair appointments.

About 15 percent of Americans have used ride-­hailing apps, while 33 percent have never heard of them, according to a Pew Research Center survey. Only 4 percent of seniors have used an Uber-style service. But they're interested, says Chaiwoo Lee, a research scientist at the MIT AgeLab. Among the minority of seniors who have smartphones, she says, " 'transportation' is usually their No. 1 search word."
Despite billions in venture funding, Uber and rival Lyft Inc. are struggling to turn a profit, and this kind of play for older users shows them moving beyond a simple price war for established customers, says Columbia business professor Evan Rawley. Independent organizations that get seniors to use ride-hailing apps provide a clear win for either company, says Anand Sanwal, chief executive officer of researcher CB Insights. "You have to serve the market the way it needs to be served," he says.
For its similar system, Concierge, Lyft has joined with corporate users including Blue Cross Blue Shield Association, Sodexo home-care ­division Comfort Keepers, and Brookdale Senior Living, the largest owner and operator of U.S. ­retirement homes. Brookdale, which houses about 100,000 seniors in 47 states, began testing the service after an internal survey showed shuttle buses and black-car services weren't meeting ­residents' needs, says Andrew Smith, Brookdale's director of strategy and innovation.
In February the company expanded last fall's pilot program in Redwood City, Calif., to 20 facilities in California and Arizona. Katherine Castro, executive director of the 271-bed Redwood City location, says that even though Brookdale paid only for each person's first ride, about a third of her residents are repeat customers, because it's still cheaper than a taxi. "I like that it's so reliable," says Serene Flax, 93, who uses Lyft Concierge three to five times a week, including to get to her art studio and meet friends at a mall in San Mateo, Calif. "I'm not burdened with other riders having to make a stop."
Uber has begun testing wheelchair-assistance services akin to a program called Lyft Access, and Carr says he can imagine the software improving, too, evolving to include an emergency call button similar to Life Alert. Both Uber and Lyft are also refining voice commands and other features with an eye to attracting more tech-savvy seniors.
Norman Hunstad, 92, of Rochester Hills, Mich., says he started using Uber about five months ago, when his failing vision forced him to give up driving and his son helped him load the app on his iPhone 6 Plus. The retired General Motors Co. engineer uses it several times a week to hail rides to the doctor, church, and meetups with friends at a nearby Big Boy restaurant. "I'm not sure what I would do without Uber," Hunstad says. "I might be able to bum a ride sometimes, but I'm not sure how I'd get to a lot of places. Going to Big Boy would be a struggle." —With Eric Newcomer
BOTTOM LINE -
Thanks largely to the Carrs and like-minded small-business people, Uber and Lyft have developed and are expanding services aimed at arranging rides for seniors.
Before it's here, it's on the Bloomberg Terminal.
LEARN MORE