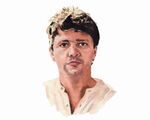 Conrad Shawcross's rise in the British art world was unprecedented, beginning with his 2003 debut, a wooden machine that slowly wound threads into yarn. It was quickly acquired by the mega-­collector Charles Saatchi. A year later, at the age of 25, Shawcross cold-called Victoria Miro, arguably one of London's most important dealers. "I got a meeting, and two weeks later she took me on," he says. In 2013 he was inducted into London's Royal Academy of Art, the youngest person ever to achieve the honor.
Now that he's 40, Shawcross, the child of historians William Shawcross (the official biographer of Queen Elizabeth the Queen Mother) and Marina Warner, is aging out of his status as a wunderkind. In his own telling, the ambition and scope of his practice reflect his growing maturity. His latest work, a 52-foot-wide set of sails currently suspended from the ceiling of St. Pancras train station, is deliberately less ­whimsical. He's also come to rely less on ­galleries to fund his ­projects and instead is focused on ­cultivating corporate and public patronage. With the art world wringing its hands over the rapid commercialization of young talent, Shawcross's model could point to a viable alternative to the current collector-dealer-­artist model. "It really became about how to get things made," he says. "It's about how to get people to be enthused about helping."
Take his 160-foot-tall tower on the Greenwich Peninsula, an urban regeneration project across the river from Canary Wharf. It was commissioned by Knight Dragon, the area's Hong Kong-based developer. And his 46-foot-tall sculpture Paradigm, the tallest public sculpture in central London, was commissioned by the Francis Crick Institute and funded by the Wellcome Trust, a biomedical charity. "Today, the scale of his practice is monumental," Miro says. "He takes on architectural and public spaces with work that combines epic scope but remains poetic and graceful."
Even with major commissions, Shawcross hasn't shied away from divisive subjects. The sculpture at St. Pancras spans the station's border-free zone where European Union nationals can disembark from the Eurostar platform without a passport. "It's in a very poignant position, because it hangs above the only part of the EU in England—on one side of a wall it's France, and the other is England," Shawcross says. "I can't help but see it as a lament about the end of an era or the beginning of another."
Before it's here, it's on the Bloomberg Terminal.
LEARN MORE