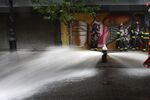 This was supposed to be the year Silicon Valley's financial plumbing started to unclog. That prediction hasn't panned out, and it's becoming harder to see a way to avoid a messy blowout. 
Here's what's happening: Young tech companies have been backed by unprecedented sums of investment money in the last three or four years. Those startup financiers in turn have collected record amounts of money from their own investors to buy pieces of future tech startups. All this money is going into the startup system, but it's not coming out the other end. 
And that's trouble. The way Silicon Valley's intricate money pipes are supposed to work is people who start tech companies receive financial backing from venture capital investment firms tasked with finding the next Google or Facebook. Those founders build a company with that money and eventually sell their company or take it public, if all goes well. The financiers make their money back, and then some, and pass the windfall down the line to their investors. 
But sales of young companies and initial public offerings haven't been keeping pace with the surge of money going into tech startups since 2014. The cash waterfall that is supposed to rush to venture capital firms and their big moneybags investors is more like a calm stream. This hasn't been a disaster yet, and it may still turn out fine. But pressure is building.
There were predictions before 2017 that this would be the start of the great Silicon Valley unclogging. IPOs were going to have a big comeback. Instead, IPOs have been lackluster. About 14 tech companies have gone public in the U.S. so far this year, Bloomberg data show. If the pace holds, the number of IPOs would match the relatively mild total from 2015. That's not something to crow about. And 2016 was also wrongly predicted to be a banner year for tech IPOs.

Very well, but most tech startups that survive are sold rather than become public companies. It turns out so far this year acquisitions of tech companies in general are in a funk. The value of U.S. technology company acquisitions fell by 66 percent in the first six months of 2017 compared with the same stretch a year ago. And startups haven't been immune from the funk. Big companies haven't been as active in buying tech startups, which is a common way for older companies to get a jolt of growth or a promising new line of business. 
The system isn't functioning normally, and I'm getting worried about the consequences. More than 200 startups globally are valued at $1 billion or more each, and those richly valued young companies -- the proper tech term is "unicorns" -- have a collective value of more than $700 billion, according to research firm CB Insights. 
And the math simply doesn't work to arrive at a happy ending. If last year's rate holds at $50 billion worth of startup acquisitions plus initial public offerings, it would take 14 years to clear the clog of unicorns from Silicon Valley's plumbing. (To be fair, the $50 billion was only in the U.S.) However, the years-long backlog of richly valued startups doesn't even account for the $120 billion more that venture capital funds have at the ready to back even more startups. That is the most uninvested cash in at least a decade for these investors, according to Goldman Sachs estimates. 
Here is what's likely to happen if the current status doesn't change soon: Pension funds and other investors that plow money into the venture capital firms hoping for whopping returns will grow impatient about seeing real money and not just big potential windfalls on paper. Some venture investment funds will have their money choked off if they don't deliver. Investors will take significant losses on once-hot startup investments. 
With Silicon Valley under pressure to make cash back from prior startup investments, more young tech companies will run out of money and die. Already this year, more than a billion dollars of investor money has been wiped out in the closing of tech startups like fitness hardware company Jawbone, food-delivery startup Sprig and messaging app Yik Yak. Expect to hear the colorful term "unicorpse" -- that's a dead startup unicorn -- much more in 2017. 
Silicon Valley has managed to avoid another dot-com-type collapse, and it probably will again. But the clog of startup investment money has nowhere else to go. Have the plumber on standby. It's going to be a mess. 
Before it's here, it's on the Bloomberg Terminal.
LEARN MORE