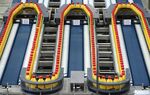 When it came to a bid for Unilever NV, Kraft Heinz Co. retreated to its bunker within days. But according to analysts at Susquehanna, that might not last much longer.
By mid-August, the six-month hiatus on the U.S. giant returning with another tilt will be over. Susquehanna estimates there's a more than 75 percent chance of Kraft coming back with a hostile bid.
Two factors stand in the way of this outcome -- as much as some Unilever shareholders might want it.
Firstly, Unilever's U.K.-traded shares are up 26 percent since Feb. 16, the day before Kraft's short-lived interest emerged, including a gain of as much as 2 percent Monday.

That's partly due to hopes that Kraft might return. But it also reflects the fact that Unilever has announced its own plans to do some of what Kraft would have done: ramp up cost savings, lift margins and sell its spreads business.
That was probably the minimum Unilever could have done. But the stock's escalation still means any bidder will have to pay significantly more this time round. Susquehanna estimates that the original $143 billion price tag could now be $200 billion, assuming a 20 percent premium.

That's more for Kraft and Warren Buffett to fund. But Susquehanna believes a bid at this level would be feasible, helped by $25 billion to $35 billion of asset disposals. What's more, it reckons Unilever shareholders would be amenable to the 20 percent uplift.
After all, a survey by Bernstein not long after Kraft walked away found that 53 percent of investors who identified themselves as Unilever shareholders said the Anglo-Dutch company rejected the approach too quickly, and should have engaged.
But even if the numbers do stack up and Kraft can get shareholders onside, there are other barriers to Unilever falling into Kraft's hands. And they lie outside of the dealmaker's spreadsheet.
Pittsburgh-based Kraft withdrew so swiftly partly because of the ferocity of the rejection from Unilever and the potential for a broader political backlash against foreign takeovers.
Those factors aren't going to go away. Unilever still doesn't want to be bought by a company with a culture of aggressively cutting costs. It aspires to be measured on things other than pure profit.
And if anything, with Prime Minister Theresa May weakened, and Labour leader Jeremy Corbyn gaining popularity, opposition might be even greater to a deal that could risk U.K. jobs.
Unilever's so-called dual-headed structure, where it has one company publicly traded in London and the other in the Netherlands, is another potential headache for Kraft.
Akzo Nobel NV, the Dutch chemicals group, recently saw off a takeover approach from PPG Industries Inc., aided by a massive political backlash.
Against the backdrop of activist investors targeting the consumer goods sector, with Nestle SA the latest in the line of fire, an intervention to force Unilever's hand can't be ruled out.
Until then however, a successful hostile bid for Unilever looks like pie in the sky.
With assistance from Chris Hughes
Before it's here, it's on the Bloomberg Terminal.
LEARN MORE