markets
Goldman's Fix for Trading Desk's Dysfunction: 'Just Add Butter'
By
Pablo Salame tells town hall attendees to treat clients better

Three-word slogan now adorns baseball caps on trading floor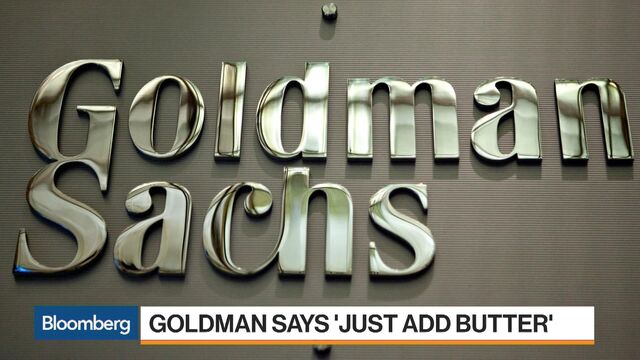 Restaurants give their favorite customers free add-ons, and so should Goldman Sachs Group Inc.
That's the message Pablo Salame, the firm's co-head of trading, had for his troops in April at a town hall meeting after the division posted the worst first-quarter results in more than a decade, according to people who attended the event or watched a taped version distributed internally.
Too often top clients are confronted with a tangle of fees from disparate desks that don't work together, or they're snubbed entirely attempting transactions deemed too small by a misguided trader, Salame, 51, told the gathering, one of the people said.
He said he was tired of losing. In an impassioned speech, Salame likened the problem to a regular at a restaurant who asks for butter on his steak, only to be rebuffed by penny-pinching chefs in the kitchen.
"Just add butter!" Salame implored his team.
The three-word slogan quickly became both a rallying cry and an internal joke, and blue baseball caps emblazoned with the phrase in white lettering were passed around -- reminders that are now scattered about trading desks on the fourth and fifth floors at Goldman's headquarters in Manhattan, one of the people said.
Salame's pep talk is reminiscent of the "long-term greedy" philosophy espoused by senior partner Gustave Levy in the 1970s. In what became an oft-cited mantra, Levy urged his colleagues to ignore easy money in favor of lasting relationships.
Revenue Slump
Salame's plea was just one highlight in an unusual town hall for partners and managing directors, held after the firm reported revenue from fixed-income, currencies and commodities trading that fell short of analysts' estimates. The meeting, which lasted more than an hour, would typically include a more structured style, but this time Salame held a round table to discuss Goldman Sachs's troubles, the people said.
The firm's trading business is in a rare funk. Its bond traders were outdone last quarter by archrival Morgan Stanley for the first time in almost six years. In stocks, Goldman Sachs posted $1 billion less revenue last year than its competitor, the biggest gap since 2013.
Both firms are scheduled to report second-quarter results next week. Goldman's trading revenue will probably decline 16 percent to about $3.10 billion, according to the average estimate among analysts surveyed by Bloomberg. At Morgan Stanley, the business is expected to generate $3.13 billion, a 4 percent drop.
Read more: Morgan Stanley tops Goldman for first time since 2011
Among other complaints, Salame blamed the problem on executives who spend too much time in offices instead of on the trading floor. And he said Goldman Sachs's traders are failing to look at clients holistically, sometimes ignoring their relationship with the entire firm and focusing too narrowly on a specific transaction.
Like the fictional diner in Salame's restaurant analogy, clients who are treated well tend to come back, he said.
Before it's here, it's on the Bloomberg Terminal.
LEARN MORE