markets
Dark Pool Traders Look to Stay in the Shadows
By
Regulator limits on dark-pool trading will upend the venues

Auctions and new markets will allow unlimited dark trading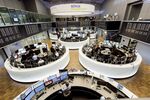 Dark pools face a major overhaul once European limits on hidden trading kick in next year. Luckily for investors, there's a buffet of offerings to help keep their stock trades under the radar.
The rules known as MiFID II, just six months away, loom large over European operators of dark pools -- they introduce a cap on transactions that would by one estimate bar three quarters of big European stocks from the trading venues. Investors love dark pools because they allow them to trade big orders without tipping off the market to their intentions. That demand isn't going anywhere, so firms have been rushing to roll out services that allow investors to sidestep the rules.
"The brokerage community will arrange an armory of tools to keep on trading in the dark," said Rob Boardman, who runs dark-pool operator Investment Technology Group Inc.'s European unit. "The implications of not being able to trade in the dark, especially for active managers, are so very serious."
Firms have so far introduced two main ways to avoid the cap. Goldman Sachs Group Inc., Nasdaq Inc. and CBOE Holdings Inc.'s Bats unit have chosen the first option: they have set up services that allow orders to hide from others until enough volume has accumulated to trigger an auction. Virtu Financial Inc. has taken another approach, teaming up with Nomura Holdings Inc.'s Instinet division to create a systematic internalizer, or SI, a special status that allows unlimited dark trading. Liquidnet Holdings Inc. has another novel approach, it has created an algorithm that lets traders choose where their orders are executed.

Views differ as to what a post-MiFID landscape will look like. European regulators worry that dark pools, intended to hide and protect whale-sized trades, have instead become dominated by chopped up, tiny algorithmic ones. They argue that the market's shift to the dark could make prices on public exchanges less accurate, weakening the efficiency of public markets.
At stake is up to 10 percent of European equity trades that take place on dark venues, defined as such if prices are not displayed before a trade is executed. That matters for bigger asset managers, who often own several percent of the companies they invest in.
The MiFID rules stop a stock from being traded in any dark pool if 8 percent of trading volumes change hands in the dark over a 12-month period. A second cap prevents a stock from trading on a single venue if that pool handles 4 percent of volumes in the previous 12 months. The limits could help regulators get their way, with at least some of the trades in halted stocks coming back on public markets.
Large trades will continue to take place on dark venues using a European Union-approved waiver. But whether smaller-size traders turn to periodic auctions or SIs to keep their trades hidden, the MiFID rules can only add to the complexity of an already fragmented European equity market. 
"Caps like this that are not based on empirical research are not useful in changing behavior," said David Howson, Bats Europe's chief operating officer. "There will always be a need to trade in less than large-in-scale without signaling to the market."
Auction Hopes
Howson said he hopes the periodic auction method will attract the majority of stock trading that is banned from dark pools. Auctions may be especially appealing because they take place as frequently as every 100 milliseconds and orders are only displayed when there are enough opposing orders to justify holding an auction. This helps stop pre-trade information leaking out to the market, according to an ITG report.
"The majority of banks and brokers say this is something of interest," said Howson. "When we speak to market participants, they are very interested in auctions."
If SIs become the venues of choice for dark trading post-MiFID rules, that would mark a victory for the large banks whose internal dark pools (dubbed broker crossing networks) account for about half of dark trading. Banks will probably be the biggest SIs, but high-frequency trading firms can also set up systematic internalizers from January when MiFID kicks in.
SIs have their limits: the European Commission has banned them from matching orders between a bank's customers, meaning either the buyer or seller in the trade must be the operator of the SI.
The MiFID rules oblige banks to commit capital when they trade in their SIs because regulators want to prevent the new breed of marketplaces from becoming a cheap alternative to a stock exchange, said Mark Pumfrey, chief executive officer of dark-pool operator Liquidnet's European arm.
Regulators appreciate that buying and selling big blocks of shares comes with a risk of nimbler rivals sniffing out trades. 
"It's quite clear that the caps are going to kill off dark trading in a lot of stocks, but we might see systematic internalizers and other ad hoc ways of trading starting to flourish," said Niki Beattie, a consultant who runs Market Structure Partners in London. "The world is evolving into something different, and we do not know what it is."
Before it's here, it's on the Bloomberg Terminal.
LEARN MORE