Charge Against Brazil's Temer Should Go Ahead, Says Deputy
By and
President Michel Temer charged with bribe-taking by prosecutor

Lower house committee to offer recommendation to plenary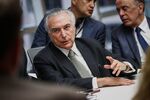 The Brazilian congressman leading a lower house committee's discussions of alleged bribe-taking by President Michel Temer says he believes the charges need further investigation, the first step in a process that may force another president from office for the second time in a little over a year.
In a report that was highly critical of the president, Sergio Zveiter, the rapporteur on the Constitution and Justice Committee, or CCJ, recommended that the committee should advise the lower house of Congress to vote to put Temer on trial. The CCJ is expected to resume discussions on Wednesday and to rule on the graft charge later this week. Temer has denied wrongdoing.
The final report produced by the committee is not binding, but it could influence the decisive vote on the floor of the lower house. Two-thirds of Brazil's federal deputies are needed to approve a trial of the president at the Supreme Court. If that happens, Temer would be forced to stand down while he defends himself. The government says it has enough votes to block the case but the ruling coalition seems increasingly fragile as a key ally, the Brazilian Social Democracy Party or PSDB, threatens to jump ship. PSDB leaders didn't make a decision at a Monday meeting, freeing members to vote as they wish in the committee.
How to Try a President in Brazil - a Step by Step Guide
While Zveiter's opinion was widely anticipated, the harsh nature of his verdict surprised many. "The tone of Zveiter's report puts even more pressure on Temer," said Andre Cesar, a political analyst from Hold Consultoria. "A defeat in the CCJ could be fatal for Temer in the plenary."
Hours before Zveiter read his report, Eurasia Group raised the odds of Temer stepping down to 40 percent from 30 percent, citing increased discontent within the ranks of the PSDB. The party's leaders are meeting on Monday evening to discuss their permanence in government.
With his approval rating in single digits, Temer has managed to retain political support with a reform agenda that pleased markets and business leaders. But his ability to approve meaningful changes to the constitution is in check as he is forced to spend much of his energy defending himself in Congress. Investors are now wondering whether House Speaker Rodrigo Maia, the next-in-line to the presidency, would be better placed to push for reforms, should Temer fall.
— With assistance by Luisa Marini, and Mario Sergio Lima
Before it's here, it's on the Bloomberg Terminal.
LEARN MORE