politics
Balance of Power: Islamic State's Most Humiliating Defeat
By and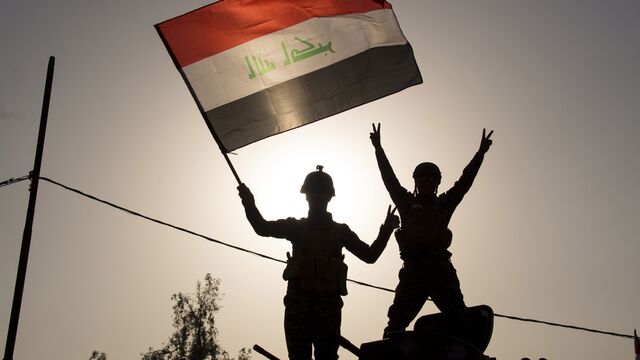 Three years after the Iraqi military fled in disarray before a brutal offensive that alerted the world to Islamic State's territorial ambitions, Mosul is back in government hands.
It's a symbolic blow for the jihadist group, which has now lost its second-most important bastion in the Middle East and faces total defeat in Iraq.
But the job of putting a traumatized city — and nation — back together is just starting. Prime Minister Haider al-Abadi's government is weak and underfunded as oil, its chief revenue source, suffers a three-year price slump. Iraq needs as much as $100 billion to rebuild areas destroyed by fighting, including $1 billion just for Mosul.
Some of the conditions that gave rise to Islamic State remain. For starters there's the divide between Sunni tribes and a Shiite majority that exploded after the 2003 U.S.-led invasion ended Saddam Hussein's rule. It's also unclear how Kurdish claims to disputed cities, and their push for independence, will play out.
The jihadists are beaten for now but they'll look for any opportunity to stage a comeback.
Sign up to receive the Balance of Power newsletter in your inbox, and follow Bloomberg Politics on Twitter and Facebook for more.

Global Headlines
Trump's son sought dirt on Hillary | President Donald Trump's son was promised potentially damaging information on Hillary Clinton when he agreed to meet with a Russian lawyer during the election campaign. That raises the possibility of more direct contact between Trump's inner circle and people linked to Russia. The younger Trump countered in a statement that the meeting lasted about 20 to 30 minutes, and "it quickly became clear that she had no meaningful information."
Cyber retreat | The president backtracked last night on his suggestion to fight hacking by forming an "impenetrable Cyber Security unit" with Russia. After bipartisan howls of derision (Republican Marco Rubio likened it to partnering with Syria's Bashar al-Assad on a "Chemical Weapons Unit"), Trump in a tweet said "the fact that President Putin and I discussed a Cyber Security unit doesn't mean I think it can happen." Trump's meeting with Vladimir Putin came during a Group of 20 summit where other leaders finally started figuring out how to deal with Trump.
Brexit reset | Theresa May will seek to reboot both her premiership and Brexit policy this week, appealing to opposition lawmakers to put forward their own ideas on how best to leave the European Union. With some Conservative Party colleagues talking openly of replacing her, she's calling for cross-party cooperation to pass a law to repeal the U.K.'s membership, with a bill entering Parliament this week.
Brazil's president loses friends | Michel Temer cut a lonely figure at the G-20 on the weekend, leaving early and holding no bilateral talks with other leaders. This week promises to be even tougher as Congress debates whether to put him on trial for graft and speculation mounts that House Speaker Rodrigo Maia is mustering support for a leadership challenge.
Abe comes home to crisis | Japanese Prime Minister Shinzo Abe is cutting short his trip to Europe as he faces the biggest threat to his premiership since taking power in 2012. The once "teflon" leader will bring forward a planned cabinet shakeup after seeing his approval ratings sink to record lows amid criticism from within his own party and a series of ministerial scandals.
Trump's man in Dubai | U.A.E. real-estate billionaire Hussain Sajwani has catapulted himself from being a little-known Dubai developer to the self-proclaimed position of "Trump's Middle Eastern business partner." After cooperating with Trump's company on two golf-courses, he's looking to invest some of his $3 billion in cash in Europe, including a luxury tower in London worth more than half a billion dollars. "Being his partner, we get a benefit," Sajwani told Bloomberg.
And finally... Pope Francis warned of a "very dangerous" alliance between the U.S. and Russia, saying their leaders have a "a distorted view" of the world when it comes to immigration. In an interview with Italy's La Repubblica newspaper, the pontiff lumped the U.S.-Russia relationship in with pairings such as China and North Korea, plus Russia and Syria. Francis is the most political (and popular) pope since John Paul II, who in the 1980s was outspoken against Communism and had a role in its demise.

Before it's here, it's on the Bloomberg Terminal.
LEARN MORE