Tillerson Reassures Ukraine After Trump and Putin Meet at G-20
By and
U.S. secretary of state visits Kiev to meet leader Poroshenko

Trump has accused Russia of 'destabilizing' actions in Ukraine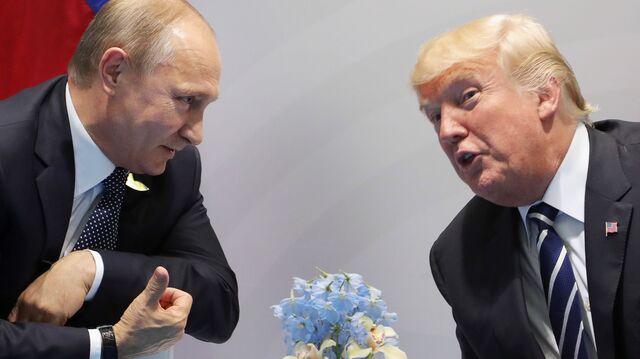 U.S. Secretary of State Rex Tillerson visited Ukraine to reaffirm support for the former Soviet republic two days after the first meeting between President Donald Trump and Russian leader Vladimir Putin.
Trump and Putin held more than two hours of talks at the Group of 20 nations meeting Friday in Hamburg, Germany, though little was disclosed about their discussions on Ukraine. For more than three years, the country has been locked in a conflict with its neighbor over the annexation of Crimea and Russian backing for an insurgency.
"I've been very clear in my discussions with Russian leadership on more than one occasion that it is necessary for Russia to take the first steps to de-escalate the situation in the east part of Ukraine," Tillerson told reporters Sunday in Kiev, the capital, after meeting with Ukrainian President Petro Poroshenko. "We call on Russia to honor its commitments" and "exercise influence over the separatists in the region."

U.S. support has been key to Ukraine containing the conflict in its easternmost regions and rebuilding its economy following a second pro-democracy revolution in a decade. While President Barack Obama's administration provided diplomatic, financial and non-lethal military backing, Trump suggested during his election campaign that he may relax U.S. sanctions imposed on Russia over Ukraine and may even recognize Crimea.
Tillerson said sanctions against Russia will stay in place until peace accords are implemented. Trump tweeted Sunday that he didn't discuss sanctions with Putin and that "nothing will be done until the Ukrainian and Syrian problems are solved."
Trump, who met Poroshenko in Washington in June, sought before his meeting with Putin to alleviate concerns that he'd be too accommodating. During a trip to Warsaw on the eve of the G-20, Trump urged Russia to "to cease its destabilizing activities in Ukraine and elsewhere." He also explicitly backed NATO's collective-defense commitment and promised more energy supplies for Poland as eastern Europe seeks to avoid an over-reliance on Russian natural gas.
Tillerson on Friday appointed Kurt Volker, a former ambassador to NATO and National Security Council director, to be special representative for Ukraine.
"We are going to change the status quo because continuing to leave things the way they are is simply not acceptable," Tillerson said. "We have to reinvigorate these talks to move forward, and that is the purpose of our engagement and the purpose of Ambassador's Volker appointment."
 
Volker will spend several days in Kiev for talks, Poroshenko told the same news conference.
Discussions to revive a stalled peace accord for Ukraine are frequently held with the participation of Germany and France, as well as Ukraine and Russia. German Chancellor Angela Merkel and French President Emmanuel Macron held talks with Putin on Ukraine on Saturday. Leaders will "most likely" speak by phone this month, with the call to be followed by a summit, Poroshenko said.
Before it's here, it's on the Bloomberg Terminal.
LEARN MORE