business
Revived 'Spider-Man' Gives Sony Much-Needed Win in Debut
By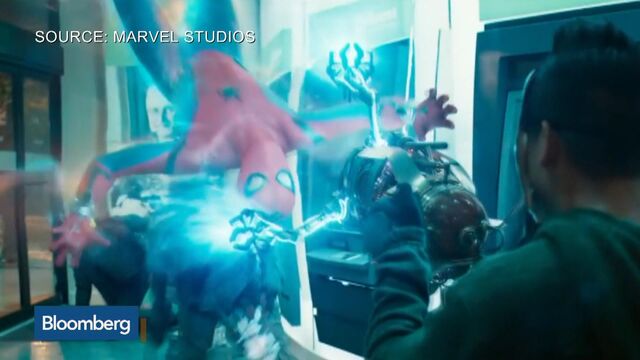 "Spider-Man: Homecoming," Sony Corp.'s second reboot of the Marvel superhero series, led the North American box office as expected in its weekend debut, marking the first No. 1 opening for the studio this year.
The film, part of a production deal with Walt Disney Co.'s Marvel unit, garnered an estimated $117 million in sales in U.S. and Canadian theaters, researcher ComScore Inc. said Monday in an email. The picture scored the second-biggest debut in the "Spider-Man" series and was Sony's second-largest opening ever, according to researcher Box Office Mojo.
"Homecoming," co-produced by Marvel Entertainment President Kevin Feige, gives Sony Pictures a much-needed hit after a string of disappointments. The Culver City, California-based studio has languished in seventh place this year in domestic box-office receipts, in part because it lacks big titles to compete with Disney and Warner Bros.

Kazuo Hirai, chief executive officer of the Tokyo-based parent company, has shaken up management, appointing new executives to lead Sony Entertainment and the film division. The studio has several more movies related to Spider-Man in the works.
"Homecoming" marks Sony's third series with the Marvel character. Tobey Maguire starred as the webslinger in three films starting in 2002. Andrew Garfield took over the role in 2012 with limited success. His last movie, "The Amazing Spider-Man 2," didn't rate well with critics and generated the lowest sales of all the films. It also cost $265 million to make.
In "Homecoming," 21-year-old Tom Holland takes on the role of the mutant high-schooler. His first appearance in last year's Disney Marvel movie "Captain America: Civil War" sparked excitement for the full-length feature from Sony. That film tied Spider-Man into a storyline that has been rolled out over several of Disney's Marvel pictures.
Robert Downey Jr. reprises his popular take on Tony Stark/Iron Man, who has recruited Peter Parker/Spider-Man as a supposed intern. Instead of focusing on his school projects and friends, Parker tracks down a group of thieves led by the villain Vulture, played by Michael Keaton, and gets in over his head.

Critics liked the new movie, giving it 94 percent positive reviews, according to aggregator RottenTomatoes.com.
Sony was predicting an $80 million North American debut for "Spider-Man: Homecoming," which was the week's only new film in wide release. Analysts at BoxOfficePro.com projected a three-day haul of $122 million, while Hollywood Stock Exchange forecast $117.9 million. Box Office Mojo had the lowest estimate at $110 million.

(
Updates with final weekend totals.
)
Before it's here, it's on the Bloomberg Terminal.
LEARN MORE