Trump Officials Say G-20 Meeting Marked by More Than Just Talk
By and
'Substantive' discussions on North Korea, Syria, other issues

Xi meeting saw 'direct' discussions on economy, security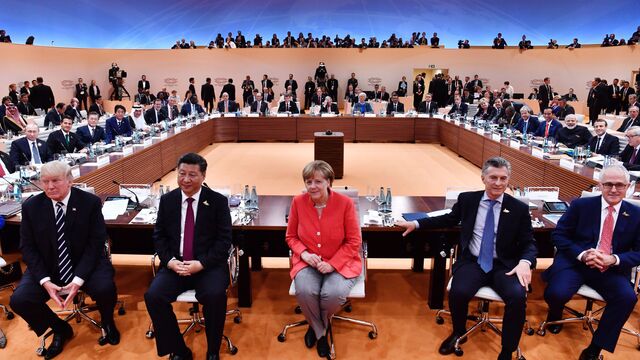 President Donald Trump's meetings at the Group of 20 summit were not just "relationship builders" but were "very substantive discussions" on trade, North Korea, Syria and other subjects, his Treasury secretary said.
Administration officials Steven Mnuchin, White House economic director Gary Cohn and National Security Adviser H. R. McMaster briefed reporters aboard Air Force One on Saturday, shortly after Trump and his entourage left the G-20 site in Hamburg to return to Washington.
The annual meeting produced a communique written to work around Trump's objections on climate and trade, leaving the U.S. president isolated among the other 19 leaders of the world's largest economies.

Trump wrapped up the summit with a bilateral meeting with China's Xi Jinping, which included a "direct discussion" on the economy and security that would have been longer had time allowed, Mnuchin said. Turkey's President Recep Tayyip Erdogan also pulled Trump aside on Saturday to discuss Syria, the White House said earlier.
Before heading to Hamburg, Trump met with several Eastern European leaders in Warsaw on July 6. The president plans to return to Europe for Bastille Day celebrations in Paris on July 14.
The G-20 summit also featured a long-awaited face-to-face meeting between Trump and Russian President Vladimir Putin, which turned into a longer-than-expected two-hour-plus sit-down between the leaders and their respective top diplomats.
Fragile Compromise
Trump raised with Putin the issue of Russia's meddling in the 2016 U.S. election , and the Russian leader denied a role, Secretary of State Rex Tillerson said on Friday. That touched off a high-stakes round of "he said, he said," with Russia's Sergei Lavrov saying that people should believe the Russians' account over Tillerson's.
In a rerun of the G-7 meeting in Italy in May, world leaders were able to forge a fragile compromise on trade and climate change that saw the alliance fractured into a "Group of 19 plus one" as Trump's America increasingly looks to go its own way.
The difficulty in reaching language in the meeting's communique that would be acceptable to all hinted at the fallout to come from the Trump administration's breach with the postwar order and the president's turn toward an "America First" stance.
Cohn said there wasn't a "contentious" discussion in Hamburg about the U.S. decision to pull out of the 2015 Paris climate accord, which was announced days after the G-7 meeting concluded.
"Obviously the communique says we chose to get out of the Paris agreement" but that doesn't mean we don't support environment, he said. "It was not a situation where there was contentious discussion."
Trump, on Twitter, declared the meeting "a wonderful success and carried out beautifully by Chancellor Angela Merkel." The president said he had an "excellent" meeting with Xi on trade and North Korea.
— With assistance by Jennifer Epstein
Before it's here, it's on the Bloomberg Terminal.
LEARN MORE