politics
Putin Says He Thinks Trump Agreed With Election Hack Denial
By and
Russian leader says president raised meddling issue many times

U.S. intelligence agencies believe Russia attempted influence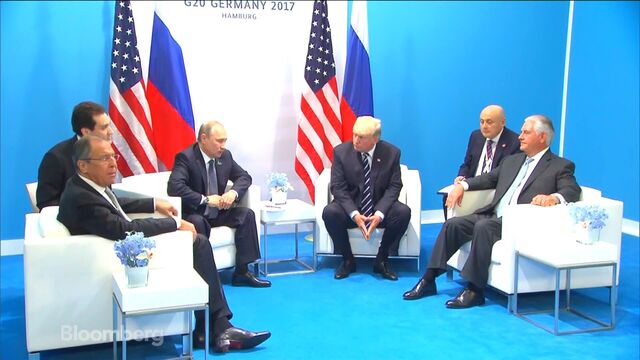 Russian President Vladimir Putin said he believes Donald Trump agrees with his denial that Russia attempted to interfere in the 2016 U.S. presidential election, which would put the U.S. president at odds with the conclusion of multiple intelligence agencies.
Putin and Trump met at the Group of 20 summit in Hamburg on Friday for more than two hours. At a press conference on Saturday, Putin said Trump raised the issue of Russia interfering in the election many times, but that the Russian leader denied involvement by Moscow. He said he believed Trump accepted his arguments.

"He asked many questions about that," Putin said of Trump. "I answered those questions as best I could. I think he took note of that and agreed. In any case, it's better to ask him how he reacted."
Earlier, Kremlin spokesman Dmitry Peskov said reporters should "believe Lavrov" regarding differences in accounts of Friday's meeting given by Russian Foreign Minister Sergei Lavrov and U.S. Secretary of State Rex Tillerson. Trump, Putin, their top diplomats and translators were the only people present during the long-anticipated meeting.
After the meeting, Lavrov briefed reporters and said that Trump agreed with Putin's assurances that Russia hadn't interfered in the election. "He accepts these statements," Lavrov said of Trump -- a contention that the White House denied vigorously.
Agencies' Conclusion
U.S. intelligence agencies have concluded that the Russian government helped direct a sophisticated effort to tilt the 2016 presidential election in Trump's favor. Trump has been reluctant to accept that conclusion.
"It could very well have been Russia, but I think it could well have been other countries," Trump said during a news conference in Warsaw on Thursday. "I think a lot of people interfere. I think it's been happening for a long time."
The U.S. agencies concluded that Russian hackers stole and released emails of officials in the Democratic National Committee with the intent to damage Democratic candidate Hillary Clinton and help Trump. Since the election, there have been fresh reports of breaches or attempted breaches of other computer systems in the U.S., many of which are suspected to be tied to Russia.
Putin on Saturday said the U.S. and Russia could start restoring relations if contacts continue in the same way as Friday's conversation. He also denied that Russia would attempt to interfere in other elections around the world, including in Germany, where Chancellor Angela Merkel is running for re-election in September.
'Everyone Knows'
Nikki Haley, the U.S. ambassador to the United Nations, said Trump "knows" Russia interfered in the 2016 election, but didn't respond directly on whether the president, in Friday's meeting, accepted Putin's assurances to the contrary.
"President Trump still knows that they meddled. President Putin knows that they meddled, but he is never going to admit to it. And that's all that happened," Haley said in a taped interview for CBS's "Face the Nation" scheduled to be broadcast on Sunday. The network provided a partial transcript of Haley's comments.
On whether Russia would face consequences for interfering, Haley said, "You're going to have to ask the president."
In a separate interview to air Sunday on CNN's "State of the Union," Haley said "everyone knows" Russia meddled in the U.S. election. "They're doing this across multiple continents, and they're doing this in a way that they're trying to cause chaos within the countries," Haley said, according to a transcript from the network.
'Wide-Ranging Discussion'
U.S. Treasury Secretary Steven Mnuchin, National Economic Council Director Gary Cohn and National Security Adviser H.R. McMaster on Air Force One on Saturday were repeatedly asked by reporters to clarify the discrepancy between Tillerson's and Russia's account of the meeting, but declined to address the question. None of those officials were in the meeting themselves.
"It was a wide-ranging discussion. No problems were solved. No one expected any problems to be solved in that meeting, but it was the beginning of a dialog on some problem sets," McMaster said.
Following the Trump-Putin meeting, Tillerson said Trump pressed his counterpart on the issue of interference many times, but that Putin denied his country's involvement and Trump decided to move on in the meeting because the disagreement seemed intractable.
The meeting also resulted in an agreement for a cease-fire in southwest Syria that is scheduled to go into effect on Sunday.
Senate Democratic Leader Chuck Schumer said in a statement that Tillerson's suggestion of giving equal weight to the U.S. intelligence community and to Putin's denials was a "grave dereliction of duty and will only encourage Russia to further interfere in our elections in the future." He encouraged lawmakers to toughen sanctions against Russia.
— With assistance by Nick Wadhams, Margaret Talev, Ilya Khrennikov, Andrey Biryukov, and Kenneth Pringle
(
Adds Mnuchin, Cohn and McMaster comments beginning in 14th paragraph.
)
Before it's here, it's on the Bloomberg Terminal.
LEARN MORE