China and Japan Leaders Seek Ties Reset Amid North Korea Worries
Isabel Reynolds, Keith Zhai and Peter Martin
First formal summit in 10 months crowns months of work

Five years since island feud sparked worst crisis in decades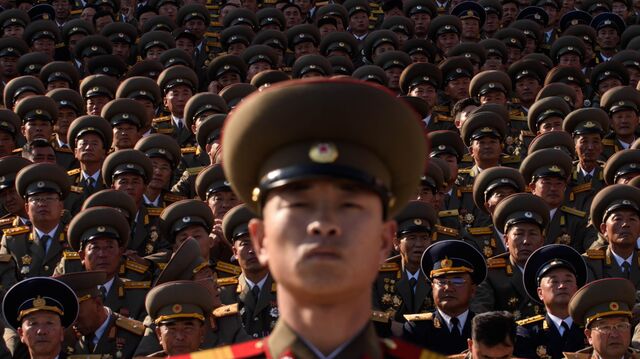 Chinese President Xi Jinping and Japanese Prime Minister Shinzo Abe met for 40 minutes on Saturday in Germany as they seek to overcome years of rocky ties to better handle the military threat from North Korea.
In their chat the leaders agreed to enhance talks and exchanges and continue to put pressure on the regime in Pyongyang, according to Japan's Kyodo News. It was their first formal discussion in 10 months, and came on the sidelines of the Group of 20 summit in Hamburg.

Abe held a "very friendly" meeting with Xi, Japanese Foreign Ministry spokesman Norio Maruyama told reporters in Hamburg. The Japanese leader told Xi he wants a summit between Japan, China and South Korea at the "earliest possible" opportunity, Maruyama said. Abe invited Xi to visit next year, Kyodo reported.
North Korea this week trumpeted its first successful launch of an intercontinental ballistic missile, with the capability to reach at least part of the U.S., further escalating tensions over the isolated regime's nuclear ambitions.
But while China, Japan, the U.S., Russia and South Korea all condemned the test, their approaches differ on how best to rein in North Korean leader Kim Jong Un. U.S. President Donald Trump has castigated China in public for not doing enough to prod its neighbor and ally.
China favors talks with Pyongyang to defuse tensions. It has been cautious about putting too tight an economic squeeze on Kim in case it sparks the collapse of his regime, with the risk of a resultant refugee crisis on China's border and an increased U.S. military presence nearby.
Read more: The options for dealing with North Korea
Abe has backed U.S. calls for greater pressure on North Korea and repeatedly urged China to play a role.
The Xi-Abe talks follow months of effort. Abe's security council chief Shotaro Yachi spent five hours with China's top diplomat Yang Jiechi at a hot spring resort near Tokyo in late May. Abe also sent a personal missive to Xi in May, via a ruling party executive, and has said he's open to cooperating on China's Belt and Road trade project under certain conditions.
This year is also a symbolic one, marking the 45th anniversary of the resumption of diplomatic relations. Abe's hopes for friendlier ties have, however, been interspersed with repeated spats over history and territory, and progress has been slow since he took office in 2012 amid the worst bilateral crisis since the 1970s.
Japan and China both claim islands in the East China Sea and their planes and ships often chase each other around the area. China has criticized Abe's efforts to expand the role of Japan's Self-Defense Forces, while Japan has accused China of using its military clout to intimidate nations in Asia.
Read more: Stuck with each other, Xi and Abe seeks ways to get on
During their talks Abe urged Xi to maintain free and open maritime order in the East China Sea, with Xi offering an assurance that China would keep peace in the region, Maruyama said.
Xi meanwhile told Abe that Japan should learn from history for a better future, China's official Xinhua News Agency reported. It quoted Xi as saying ties were distracted by a number of factors despite positive exchanges between the countries.
While there have been several meetings between the two on the sidelines of international summits, there have been no bilateral visits to each other's country since Xi and Abe came to power. A China-Japan-South Korea summit that could be a stepping stone to such a visit is reported to have been postponed amid tension between Beijing and Seoul over the partial installation of a U.S. missile shield in South Korea.
Progress on ties with China might provide a domestic fillip for Abe, whose clout was weakened by his party's worst showing in a Tokyo assembly election earlier this month. China is Japan's biggest trading partner and a major source of revenue for the growing tourism industry.
But a warmer relationship with Japan could be a double-edged sword for Chinese leaders, particularly ahead of the Communist Party's congress later this year at which some senior leadership positions will change under Xi and Premier Li Keqiang.
Cautious on Visits
"There are people in the Communist Party who would not be pleased at the prospect of getting along with Japan," said Noriyuki Kawamura, a professor at the Nagoya University of Foreign Studies. "In order not to be criticized by these people, Xi and Li will have to be cautious about visiting Japan."
Still, with Xi leading China for at least another five years, there is an incentive to get on.
"People may have an impression that there's no single good thing happened in China-Japan relationship recently. But that's not the reality," Xue Jian, a minister counselor at the Chinese embassy in Japan, said in a speech in Yokohama on Wednesday.
"China and Japan are key partners that one cannot live without the other," Xue said. "The two nations are like partners sharing food from the same pot."
Before it's here, it's on the Bloomberg Terminal.
LEARN MORE