markets
ECB's Villeroy Sees Autumn as the Season to Adapt Stimulus
By , , and
French central-bank head comments in Bloomberg TV interview

Governing Council differs on when to discuss bond-buying path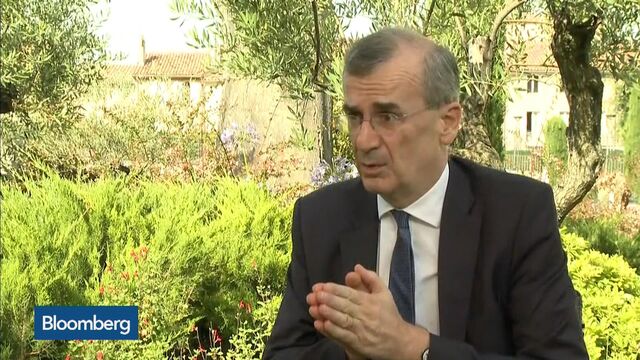 The European Central Bank is likely to decide on the next change in its stimulus settings in the fall, when it will continue the process of tweaking its measures to reflect the euro area's upturn, according to Governing Council member Francois Villeroy de Galhau.
"What we have to do, and what we started to do, is to adapt the intensity of this accommodative monetary policy to the progress toward our inflation target and toward economic recovery," Villeroy de Galhau said in a Bloomberg Television interview on Saturday. "In the future, and this will be our decision next fall, we will go on adapting the intensity of this monetary policy."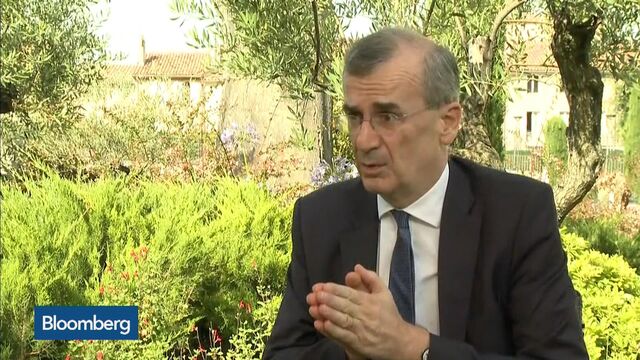 The French central-bank governor's remarks may be the most definitive yet on when the ECB will take action on its 2.3 trillion-euro ($2.6 trillion) asset-purchase program, which is currently scheduled to run until the end of the year. While he is just one of 25 Governing Council members who decide monetary policy for the currency bloc, concerns are rising among some of his colleagues that time is running out if they are to avoid undesirable market volatility.
Villeroy de Galhau's choice of wording -- "adapt the intensity" -- which he said three times, adds to signs that the ECB intends to pare back stimulus in a way that doesn't tighten financial conditions. Officials are concerned that while growth is picking up, inflation and wages are not.
Room for Maneuver
President Mario Draghi signaled last month that he sees the expanding economy as allowing room for maneuver on stimulus while still maintaining the same level of monetary accommodation. Executive Board member Benoit Coeure said in remarks published on Friday that the ECB's action last December, when it announced a cut in monthly bond purchases to 60 billion euros from 80 billion euros starting in April this year, is a guide for how to make policy adjustments in future.
Coeure also said it's important for the central bank to be transparent in its communications, otherwise it risks more abrupt adjustment for the markets when the decisions are actually taken.
The ECB next meets to set policy on July 20. It then has meetings on Sept. 7, Oct. 26 and Dec. 14, with the September and December decisions accompanied by fresh economic forecasts.
Too Long
Most economists expect QE to be tapered gradually to zero starting in 2018, but Villeroy de Galhau, speaking on the sidelines of the Rencontres Economiques conference in Aix-en-Provence, France, stressed that any change to quantitative easing shouldn't necessarily be seen that way. The 58-year-old also denied that the Governing Council is muddying the outlook by avoiding the topic.
"You spoke of winding down -- this is not a present debate," he said, adding that "we have been extremely clear about the visibility, predictability of our monetary strategy."
Other colleagues have advocated a faster roadmap for exiting stimulus, with Dutch Governor Klaas Knot warning on Friday that the central bank is "very close to the point" of keeping QE for too long, noting that the global financial crisis was partly caused by too much money being pumped into the system.
Coeure, speaking again on Sunday at the same conference as Villeroy, urged that tools need to be developed on a regional level in order for the euro zone to withstand potential crises in the future.
"Today everything is fine, but what will happen when the euro zone receives its next shock?" he said. Although it might be five years away, it "will surely arrive."
Patience Plea
Chief Economist Peter Praet, who crafts the Executive Board's policy proposals and presents them at each Governing Council meeting, has consistently called for patience. Asked about the future of QE in an interview with Dutch newspaper De Standaard, published Saturday, he answered that "I can't say anything about that yet," adding that officials can't be satisfied with the inflation outlook and "we still need a long period of accommodative policy."
Villeroy de Galhau said that what matters most is the real economy, and that the ECB should not let itself be distracted by political pressures or investor impatience.
"The most influential members of the Governing Council are pragmatists," he said. "I clearly am a pragmatist."
Before it's here, it's on the Bloomberg Terminal.
LEARN MORE