Volcker Says Trump Changes to Volcker Rule Won't Erode Principle
By
Former Fed chairman isn't worried about Treasury plans

'If they can do it in a more efficient way, God bless them'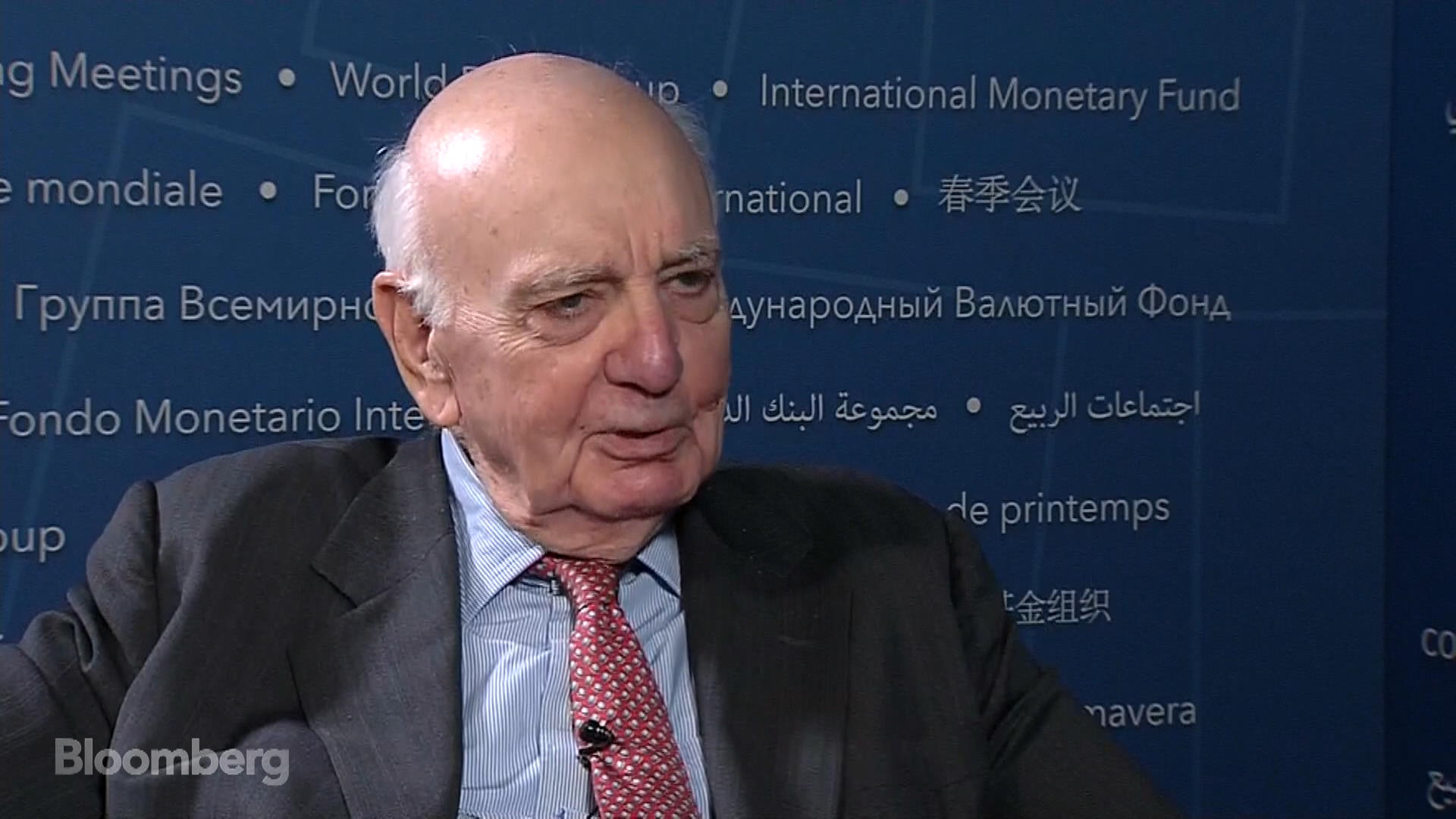 Paul Volcker said he isn't worried that the Trump administration will undermine the financial rule that bears his name.
"If they can do it in a more efficient way, God bless them," the former Federal Reserve chairman said in a phone interview about proposed revisions to the regulation. "The basic principle remains valid. I hope that won't go away, and I expect that it won't."

The Volcker Rule, part of the 2010 Dodd-Frank Act, restricts trading by banks to ensure they don't make risky bets that lead to big losses. It took five regulatory agencies more than three years to hammer out the details of how firms can continue to help clients trade without engaging in so-called proprietary bets with their own money. A report released by Treasury Secretary Steven Mnuchin last month recommended that regulators simplify some of those directions and exempt community banks.
"Everybody wants to see it more simple," said Volcker, 89, who served as Fed chairman under presidents Jimmy Carter and Ronald Reagan. "The basic premise is hard to fight against. Yet the banks have powerful lobbyists who have been fighting it from day one."
Read more: QuickTake on the Volcker Rule
The Treasury report defended the Volcker Rule, saying banks that have access to the government safety net shouldn't be "engaged in speculative trading." Yet it called for Congress and regulators to ease the compliance burden on firms that help clients buy and sell securities.
Congressional Approval
While Congress may have difficulty agreeing on revisions to Dodd-Frank, regulators can make changes without legislative approval, and President Donald Trump can appoint new banking supervisors who will go along with his administration's plans.
Congress would have to approve any exemption of small banks. Volcker opposed such an exception in an April speech, saying that if a bank is involved in complicated trading it isn't really a community bank.
Regulatory agencies can simplify the definition of proprietary trading and provide more flexibility on what counts as market-making, the Treasury report said. Banks have criticized the definitions as being too restrictive and prescriptive, not giving them enough leeway to be effective market-makers. They've also said the Volcker Rule has reduced liquidity in some markets, citing Fed research showing such an impact. Last week a new Fed study taking a broader view concluded that post-crisis regulations hadn't harmed bond-market liquidity.
Despite protests by banks, the Volcker Rule hasn't prevented all speculative trading. In 2015, a single trader raked in a $250 million profit for Goldman Sachs Group Inc. without violating the rule.
Speculative Trading
Volcker, who overcame stubborn inflation with bold interest rate hikes in the 1980s, proposed the ban on speculative trading in 2009 as a modern version of Glass-Steagall, the 1933 law that had separated investment banking from commercial and consumer lending. After a stint as an adviser to former President Barack Obama, he started the Volcker Alliance in 2013 to urge streamlining regulatory oversight. 
The Trump administration won't go too far in pushing for changes to the Volcker Rule because its essence resonates with the president's voters, according to Volcker.
"It'd be very ironic for an administration that appeals mostly to people outside the big cities to end up easing the way for their banks to engage in sophisticated trading instead of lending money to those folks," he said.
Trump called Volcker "a terrific guy" in a 2015 interview with Bloomberg Television and pointed to him as the model central banker for the one he'd appoint as president. Trump also said he's okay with the Volcker Rule as long as Volcker is happy with it.
In 2009, when the two ran into each other on Fifth Avenue in Manhattan, Trump chased after Volcker shouting his name, according to an observer of the encounter. Trump shook Volcker's hand and said he was a great admirer.
Before it's here, it's on the Bloomberg Terminal.
LEARN MORE