Trump and Podesta Trade Barbs During President's G-20 Trip
By
Trump needles Clinton campaign chairman Podesta from Germany

Podesta says 'whack job' should get his 'head in the game'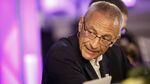 Hillary Clinton's 2016 campaign chairman called Donald Trump a "whack job" and urged him to get his "head in the game" after the president tweeted about him from the Group of 20 summit in Germany on Friday.
Trump revived his feud with the Clinton camp with a message that "everyone here is talking about why John Podesta refused to give the DNC server to the FBI and the CIA. Disgraceful!"
Podesta's personal Gmail account was hacked during the election, but his role was on Clinton's campaign staff, not at the Democratic National Committee, which was also hacked.
Trump felt pressure to address Russian interference in the election ahead of his high-stakes meeting with Russian President Vladimir Putin at the summit Friday -- their first meeting as leaders -- and lashed out because he "has no impulse control," Podesta said in a phone interview from West Virginia.
'Point the Blame'
"As is his wont, he's trying to point the blame someplace else. When he gets backed into a corner he lashes out and it doesn't matter if it bears any resemblance to reality," the former Clinton and Obama White House adviser said.
Trump's tweet, issued as he prepared for a long day of meetings with leaders of the world's largest economies, demonstrates his distraction and lack of focus on his job, Podesta said.
"I think he has no impulse control and that when you're standing next to 19 world leaders they're beginning to get that," Podesta said. "That doesn't just hurt himself."
In a series of tweets, Podesta also told Trump, "Get a grip man, the Russians committed a crime when they stole my emails to help get you elected President," and said he had "nothing to do" with the national party committee, which investigators concluded was hacked by Russians. "Dude, get your head in the game. You're representing the US at the G20."
Trump's tweet came without any link or other context, and it was unclear who he meant by "everyone." The White House did not immediately respond to a request for clarification.
DNC Response
The DNC responded that Podesta never ran the organization and said it worked with the Federal Bureau of Investigation and Department of Homeland Security to "kick out" the Russians.
"The DNC coordinated with the FBI and federal intelligence agencies and provided everything they requested, including copies of the servers," spokeswoman Adrienne Watson said in a statement. "The DNC turned over all information on the servers to the FBI. Conspiracy theories from the president suggesting otherwise are false."
Former DHS Secretary Jeh Johnson, however, told the House Intelligence Committee on June 21 that the DNC had spurned his agency's offer of help after it was hacked.
"I was not pleased that we were not in there helping them patch these vulnerabilities," he said.
Election Meddling
After Trump and Putin met for more than two hours, Secretary of State Rex Tillerson said Trump raised the issue of Russia's meddling in the election and that Putin denied the allegation, as he has in the past.
On Thursday, Trump had again ducked the question of whether he accepted the intelligence community's assessment that Russia was responsible for the interference.
The meddling "could be Russia," he said, but "a lot of people interfere" and other countries may have been involved.
"Nobody really knows," Trump said. "Nobody really knows for sure."
Before it's here, it's on the Bloomberg Terminal.
LEARN MORE