Shkreli's Ex-Compliance Officer Says He Quit Over Dodgy Deals
By
Jackson Su tells jury he was fed up and complained to SEC

Shkreli's former analyst called her ex-boss a 'scam artist'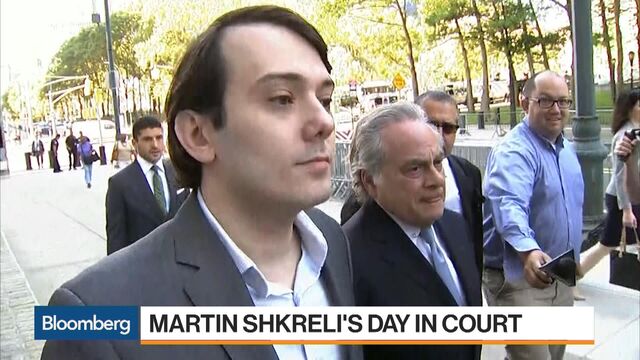 Martin Shkreli ran his hedge fund and start-up drug company in such a dodgy way that his compliance officer said he quit after less than a year on the job.
Jackson Su worked for Shkreli from January 2012 until December of that year and told a jury at Shkreli's fraud trial in Brooklyn, New York, that he got so fed up watching his boss execute questionable and unethical transactions that he quit and complained to the U.S. Securities and Exchange Commission.
"The last day I was there, Martin took $10,000 of what was left -- there was only $20,000 left in the bank account -- and he transferred $10,000 to his own personal account," Su testified. "That was the last straw."
Su's testimony on Friday, along with that of Shkreli's former analyst who called her ex-boss a "scam artist," provided some of the most damaging evidence yet against the hedge fund manager and pharmaceutical executive in his two-week-old trial.
Shkreli, 34, is accused of having run a Ponzi-like fraud by taking investors' money to start Retrophin Inc. and then looting the drug maker of $11 million to pay his hedge fund clients. He's denied wrongdoing. Shkreli operated the hedge fund and Retrophin from the same office in midtown Manhattan.
Su, 42, said he saw a $900,000 investment the hedge fund -- MSMB Capital -- made in Retrophin suddenly get reclassified as a loan. Shkreli would also drop backdated transactions -- sometimes months later -- on Su's desk for approval, according to the testimony.
SEC Complaint
Su said he went to the SEC in May 2012.
"There was no transparency in the amount of assets that MSMB had," he told jurors. "That was a red flag for me."
Su said he walked by the office of Retrophin's president on his last day there.
"I said I'm not going back to work. All these things don't add up," he told the jury. "I was done."
Earlier, investor Darren Blanton also testified that he complained to the SEC about Shkreli because it took him three years to get his money back.
It's not clear which complaint prompted the SEC to start an investigation, but regulators began a probe of Shkreli in 2012, according to prosecutors, and Shkreli testified before the SEC in August 2013 and February 2014.
Shkreli was ousted as the head of Retrophin around September 2014 and in December he was arrested and charged.
Caroline Stewart, who worked for Shkreli for about eight months in 2011 analyzing stocks at the hedge fund, testified that she had threatened to expose her ex-boss to investors because he was lying and exaggerating to clients. She said she sat next to him and overheard his phone conversations.
"I'm so sick of him saying all of his canned s--t all the time," she wrote to Kevin Mulleady, the chief executive officer at the hedge fund.
"Nobody knows the FDA better than we do," she quoted Shkreli as telling people on the phone. "Nobody is smarter or better funded than we are."
"What utter crap," she wrote in the message. "It's his M.O. He's done it several times. He's mentally unstable."
The hedge fund imploded in February 2011 when Shkreli lost $7 million on a trade, leaving only a little more than $2 million in assets, Stewart told jurors earlier. Prosecutors say it was at that point Shkreli took whatever money was left from his investors and put it in Retrophin.
Shkreli Partly Gagged During Trial
Stewart said she felt affection for Shkreli and was the only employee to come to work after that. Stewart also wrote Shkreli an email in an attempt to cheer him up.
"I know things must seem bleak to you but try not to be too disheartened," she wrote. "I think the mistake was one anybody could have made. You're the smartest most ambitious/driven and also kindest person I have ever met."
Those feelings soon dissipated and Stewart said her regard turned to anger when Shkreli stopped paying her on a regular basis. When he did pay her, it was only two-thirds of her $150,000 salary, she said.
"I'm done trusting Martin," Stewart wrote in an instant message. "I can't believe a word that comes out of his mouth."
The case is U.S. v. Shkreli, 15-cr-0637, U.S. District Court, Eastern District of New York (Brooklyn).
Quotes from this Article
Before it's here, it's on the Bloomberg Terminal.
LEARN MORE